Building a magnificent website for your roofing website is not enough. You must rank high in search engine results to attract organic traffic. It is what would help generate leads and convert prospects into lifelong customers.
And this is where the role of roofing SEO comes into the picture.
So, do you need to be a roofing SEO expert to push your roofing website up in the search results?
Well, not exactly, but SEO is a complex, ongoing, and tenuous process that's best left in the hand of SEO professionals with years of experience.
If you plan to do roofing SEO by yourself, there are a few things you need to keep in mind, such as –
Have sufficient knowledge of digital technologies and platforms.
Know the fundamentals of Search Engine Optimization (SEO)
Have a good understanding of how to develop an effective roofing SEO strategy.
All this can be puzzling for roofers new to SEO and trying to penetrate an already competitive market.
This is why we have put together this comprehensive guide on SEO for roofing businesses, walking you through the various SEO processes, strategy building, and other relevant elements, guiding you toward achieving SEO success.
What Are The Key Elements Of Roofing SEO?
Though search engine optimization is an elaborate and ongoing affair, not to mention ever-evolving, a few time-tested SEO techniques, processes and elements form the fundamental structure of your roofing SEO strategy.
These roofing SEO elements include –
Key Ranking Factors –These are factors that Google and other search engines consider to get your roofing website featured in organic, paid, and local search results.
Keyword Research– It is a process of unearthing relevant keywords based on search intent and keyword analysis, boosting the chances of your website showing up when customers look for roofing and related services.
Content Marketing Strategy– It revolves around creating relevant content with focus keywords to drive organic traffic to your roofing website. It also helps establish you as an authority in the roofing domain in due time.
Link Building– This involves implementing link-building strategies to get links on authoritative websites, pointing back to your money site.
Technical SEO –This is one of the more complicated but vital aspects of SEO for roofing businesses, including website design, on-site SEO, and other methods to help enhance the overall user experience.
Off-Page SEO –This revolves around populating your website on other relevant traffic-generating venues to enhance visibility, create brand awareness, and grow your brand organically. Some crucial elements to focus on include Google Business Profile (earlier Google My Business), Social Media, and Roofing Directories.
Local SEO –The Local SEO strategy focuses solely on optimizing your SEO strategy to rank higher in local (near me, nearby, geo-specific) search results. One of the primary aims is to rank in Local Pack and Map Search results.
Paid Marketing– In terms of SEO for roofing business, this involves achieving higher traffic through PPC marketing and Local Search Ads.
Tracking Campaigns– Measuring your SEO campaigns reach and ROI is crucial to make the most of your marketing dollars. Roofing companies should implement various ways to monitor and track roofers SEO campaigns, ensuring it's on the right track and if any tweaks need to be made.
It's important to note here that search engine optimization doesn't offer instant results and is an ongoing process.
Deriving tangible results from SEO takes time, and being patient yet consistent with your efforts is the key to achieving success with SEO for roofing business.
While you can choose to do roofing SEO for yourself, it's always a good idea to let our professionals take care of SEO for your roofing business while you focus on your core business activities.
Now, without further ado, let's dive into what roofing SEO is and why you should focus on it!
What Is Roofing SEO?
The primary aim of SEO for a roofing business is to rank higher in search engine results.
The process involves improving your website's technical and SEO elements to boost the overall user experience while building credibility and an online reputation.
Simply put, when a prospect types in the search engine "roofing services near me" or other similar roofing-based keywords, your website should show up on top of the search engine results.
The higher the rank in SERPs, the higher the chances of driving targeted traffic and customers to your website. And it translates into more leads and booked jobs.
A well-planned and implemented roofing SEO strategy can skyrocket your sales. In contrast, dull or amateurish SEO efforts can backfire and drown your hopes of getting a lead over your competitors.
Neglecting SEO for roofing businesses is one of the biggest mistakes most roofing companies make.
Why Is SEO Important For Roofing Companies?
When was the last time you searched for something on Google and continued your search beyond the first page into the second, third page, and beyond?
Probably never!
If your roofers website is not on the first page, forget the results, you won't even see any organic traffic. It's because only 2 to 3 percent of users ever visit the second page and beyond. Generally, anything beyond the first page can be referred to as a graveyard.
Moreover, the first-ranking website in SERPs gets 35 times more clicks than the one ranking tenth.
Roofers SEO helps increase your online visibility, making it easier for your customers to find you. More than 85 percent of customers look for roofing contractors or other local service providers online.
If you want to divert customers searching for roofing companies online to your website, it's important to focus on SEO.
Still not convinced?
SEO brings you nearly nine leads for every lead generated through traditional marketing measures, making it the most effective marketing technique known today.
Invest in roofing SEO, or see your competitors pass you by!
Let us further distill the benefits of roofing SEO for clarity.
Benefits Of SEO For Roofing Business
SEO is among the most effective inbound marketing strategies.
It sets up your roofing business to have prospects come to you instead of you having to go out there and find customers.
Some of the benefits of roofers SEO includes the following –
Cost-Effective
SEO costs a fraction of traditional marketing measures while offering a much higher ROI.
It is one of the best investments you'll make for your roofing business, helping drive organic traffic to your website and eventually translating into more customers.
SEO costs depend on many variables, including the SEO professional/agency you hire, market competition, current website rankings, website analysis, content strategy, local market, SEO objectives, and more.
The typical cost of SEO for a roofing business to achieve desired results starts from $1,000 to upwards of $5,000.
It also depends on how aggressive you want to be with your SEO marketing efforts and your marketing budget.
Roofing SEO Helps Attract Quality Leads
One of the key benefits of roofing SEO is it gets you half-baked, high-quality leads. In other words, roofers SEO helps you get targeted leads with hands on their purses and already looking for the roofing services you offer.
Roofing SEO drives organic traffic and high-intentioned visitors to your website who are already halfway through the closing by the time they contact you.
No one searches for "Roofing services in Austin, TX" for fun, agree?
So, when a customer searches for these terms and your website ranks for these search-intent-based keywords, it becomes easier to attract, capture and convert these leads.
Roofing SEO builds the bridge between your roofing company and these targeted leads, ensuring higher revenue generation.
SEO Keeps On Giving – For A Longtime!
Search engine optimization has a much longer lifespan than all other traditional marketing measures put together.
Optimized websites and webpages continue to bring in quality leads for your roofing company day in and day out for years. It works round the clock for you!
Many roofing companies report getting targeted leads each month from one high-quality blog post.
However, frequently adding new content to your roofing website is important. Also, don't forget to repurpose old content to make it contemporarily relevant and valuable for your target audience.
That said, there's no denying that SEO is time-consuming, but it's worth the effort.
Once your website is positioned well in the search engine, ranks for your target keywords, and your brand visibility increases, there's no going back.
Continue fueling your roofing SEO efforts in an ongoing manner, and your roofing business will become a brand to reckon with in the roofing space.
Build Brand Credibility & Trust
No roofing contractor can deny that being a well-known name in the roofing space helps close leads faster.
Your roofing company might provide one of the best roofing services, but if it's not well-known in the roofing industry, isn't visible online, and doesn't have a commanding online space, it reflects poorly on your roofing business.
Focused roofing SEO will help position you on top of SERPs for your targeted keywords. For consumers, it means that Google validates your website/brand as offering value over your counterparts, which is a big plus when closing leads.
SEO helps build your roofing company as a well-known, credible brand and establish you as an authority in the roofing realm.
This is made possible by following various SEO best practices like in-depth keyword research, optimizing content, building relevant backlinks, fixing broken links, improving UX/UI, and more.
SEO doesn't only help expand your presence online but optimizes your website and end-user experience. This means roofing SEO doesn't only focus on bringing traffic to your website but ensures they stay there.
It needs continued effort for sure, but what good thing doesn't?
Roofers SEO Guarantees Higher ROI & Conversions
As mentioned above, roofing SEO drives traffic to your website, which eventually means more leads and increased conversions.
Regardless of your call-to-action, whether requesting a free quote, booking an on-site roofing inspection, scheduling a consultation call, or anything else, roofing SEO can articulate its processes to achieve your business objectives.
Moreover, SEO is highly quantifiable, so you get detailed insight into the metrics that help calculate ROI and conversions.
Local Roofing SEO – Reach Out To Local Customers!
Roofing companies have a narrow operating territory. Typically, a local roofing contractor catering to Irvine, CA, can't service clients in New Jersey City, NJ.
Roofing companies need to reach out to local customers, which is what local SEO helps with.
It's an integral part of any roofing SEO strategy as it helps optimize the website and its content for local search rankings.
This helps your roofing website appear in specific geo-searches and rank in Google's Local Pack, which is key to getting more phone calls, leads, and booked jobs.
Local SEO revolves around geo-targeted content optimization, optimization of Google Business Profile, and local business listings. (More on this later)
SEO gets you more traffic than pay-per-click marketing, and it only makes time to feed your SEO campaign consistently over time.
When done right, it's life-changing because the roofing industry is huge, and U.S. homeowners spend over $12 billion each year on roof replacement, installation, and repairs.
A properly planned roofing SEO strategy can help you get a good chunk out of it!
Cons Of SEO
Roofing SEO is non-negotiable for any roofing company that aims to grow and dominate the market.
However, there are certain drawbacks you should keep in mind to have a realistic approach.
SEO Is A Time-Consuming Process
SEO takes a considerably long time to generate results, unlike PPC marketing.
Understanding, following, and implementing SEO best practices is an uphill task, combining many SEO techniques to get desired results.
The efforts build up over time to fetch the results you're looking for, so it's important to brace yourself for it.
If you want quick results, SEO is not for you.
Substantial Investment Of Time & Money
Roofing has become a competitive niche, with more and more roofing contractors going online.
While it doesn't mean there's no space left for you, it does mean that you need to invest in SEO to get results.
Also, roofing SEO demands hours on keyword research, content creation, generating backlinks, technical SEO, competition analysis, and more to outrank your immediate competitors.
Investment of both time and money does pay back eventually many times over.
SEO Doesn't Always Guarantee #1 Position In SERPs
Roofing SEO is an effort to tell Google you bring value to the table for your consumers. And there are tons of other roofing companies telling the same to search engines.
Which one wins the race and ranks on top of SERPs is completely at the discretion of the search engines.
With sincere efforts and a solid roofing SEO strategy, there's no reason you can't outperform your competitors, but there's no guarantee.
Even if you achieve the first position in SERPs, only continued efforts will help you stay there, as the race is never-ending. A little slack, and you can be de-positioned.
Focus on offering value to your customers; things will eventually turn to your advantage.
Algorithm Changes
Roofing SEO is about following best industry practices and hoping the tables turn in your favor. Unlike PPC marketing, SEO doesn't offer you total control of your marketing campaign.
Google is constantly changing its algorithms to provide relevant results to users.
According to Google, an average of six algorithm changes are made daily. This means you must stay updated with the latest Google updates and market trends to stay ahead, which is a time-hungry process.
How To Keyword Research For Roofing SEO?
Having discussed the pros and cons of roofers SEO, let us dive deep into the key aspects of roofing SEO, and keyword research is where it all starts.
Keywords are basically words and phrases users enter into the search engine when looking for your roofing services. Ideally, you would want to rank for all high-volume roofing keywords in your area.
Keywords fall into two primary categories –
Short-Tail Keywords
Long-Tail Keywords
Identifying which roofing keywords to focus on depends primarily on thinking – what, where, and why – for your target audience.
It can be enumerated as –
Where is your target audience searching from? (Defining the location of your target audience)
Why are they searching? (Are they looking for information or service?)
What is your target audience searching for? (Does your roofing company offer what they're looking for?)
Focus on the users' search intent, and you'll have a list of keywords to target. And then get more and more specific with these search-intent-based keywords to garner relevance and visibility.
Local Keywords
In roofing SEO, one other keyword category, namely Local Keywords, plays a vital role.
For example, let's say you have a metal roofing company in Cleveland, OH. You would want to build content around keywords such as –
Roof Repair Cleveland, OH
Metal Roof Replacement Cleveland, OH.
Metal Roofing Company Cleveland, OH.
Metal Roofing Companies Cleveland, OH.
Metal Roof Repair Cleveland, OH.
Metal Roofing Company near Cleveland, OH.
Metal Roofing Cleveland, OH.
And so on.
Work around every possible variation of the phrases mentioned above, and your website's content will be geo-optimized for local searches in your target business area.
Short Tail & Long-Tail Keywords
Keywords that are three words or less are classified as short-tail keywords and are more generic, e.g., metal roofing.
Long-tail keywords are four words and above and help target a more specific search query, targeting a relatively narrower audience. And over 70 percent of searches online involve a long-tail keyword.
Here let us see the progression of a short-tail keyword to a more specific long-tail keyword.
Roofing
Metal Roofing
Roof Repair
Metal Roofing Repair
Metal Roofing Repair Cleveland, OH.
Metal Roofing Repair near me
Metal Roofing Repair in Cleveland, OH.
Even if the search volume decreases when you check the metrics of long-tail keywords in keyword research tools, you'll notice the conversion increases as it gets more granular.
It is because someone searching for "metal roofing repair in Cleveland, OH" is most probably looking for the service, and now!
Competitors Keywords
And while we are on the topic of keyword research, let us not forget to peep into the keywords your immediate competitors are using.
There are SEO tools that help you decode your competitors' roofing SEO strategy and the keywords they're using to get leads/sales.
Incorporate those keywords into your roofing SEO and content strategy, and you'll notice the table turning slowly but surely!
Content Optimization Strategy for SEO in Roofing Business
Content is the cornerstone of your roofing SEO strategy and is rightly referred to as the king of SEO strategy. Without valuable content on your roofing website, it's impossible to achieve success with roofers SEO.
You need optimized content for the website of your roofing company that is –
Easy to Read
Engaging
Relevant (matches users' search intent)
Compelling
Featuring target keywords in the right Keyword density. (Do not stuff keywords)
Publishing high-quality content that offers your target audience information, solution, and value will help you stand out in an overcrowded roofing industry.
The content should be such that whenever someone is looking for information or answer to roofing-related questions, your brand/website is what first comes to their minds.
There are different types and formats of content to include in your roofing SEO strategy, including –
Roofing Service Pages (And sub-pages)
Blogs
Resource Pages
Long-Form Content (Guides, Listicles, How-Tos)
Infographics & Images
Videos
The key to developing a winning content strategy is not only creating valuable content but creating it consistently. You can't publish a blog today and the next after three months.
Create a content calendar and religiously publish high-performing content (mix and match the variety of content you publish) after thorough keyword and competition analysis.
Make it a point to keep your blog and other dynamic pages on your roofing website well-fed.
Also, when it comes to roofing SEO, the minimum word count we suggest is over 700 words to bring value to your target audience without biting words and valuable information.
Pro Tip: Publish at least 3-4 "Giant Guides" on your roofing website. Google loves comprehensive content/guides. If you know your target audience's common pain points, develop guides around those to win brownie points with your audience and Google.
Link Building For Roofing SEO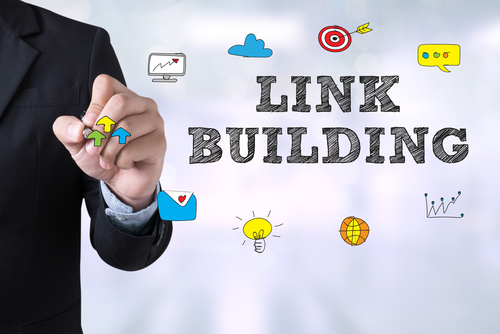 Links are among the top three Google ranking factors.
Ignoring link building in roofing SEO is like self-sabotaging your SEO efforts.
Link building can be defined as increasing the number of links pointing back to your website. However, developing links rampantly can backfire as the links should be from reputable websites.
What link building does is showcase to Google that your website's content is valuable. It also helps get some traffic from referring websites.
While natural linking is the best practice when it comes to link building, using purchased links does help as well. And purchasing links for roofing companies can be expensive.
Effective link-building strategies you can use for SEO in the roofing business include –
Guest Posting
Social Media
Online Directories
HARO (Help a Reporter Out)
Broken Link Building Strategy
Create Quality Content
Another aspect of link building often overlooked is scanning for links pointing back to your website and identifying bad links.
Do this periodically and disavow bad links, as they can harm your website's ranking and may even attract a Google penalty.
Local SEO for Roofing Business
One of the most important aspects of roofing SEO is optimizing for local SERPs, which is what local SEO is all about.
Unless your roofing company offers nationwide services, you'll need people from your business area to visit and book on your website.
Local SEO focuses on targeting customers from a specific geographical area. One of the key elements here is to rank in Local Pack showcased by Google, and about 93 percent of the time, it's showcased above traditional search results.
Why ranking on Local Snack Pack is important? Because it generates over 44 percent of all clicks in a search.
For a roofing contractor, it's a huge boost to be ranked in Local Pack.
Optimize your website for three factors Google look for when listing local search results, namely –
Distance
Prominence
Relevance
Getting listed in local websites and directories to derive local link juice can help back your efforts for local SEO for roofing businesses.
The key steps to rank in Local Pack are to set up, verify and optimize your Google Business Profile. To further strengthen your optimization efforts, do the following –
Optimize your Google Business Profile (GMB) Page – Add relevant details to all sections, including hours of operation, business name, business address, contact information, roofing service descriptions, roofing categories, attributes, etc.
Fill the "From the Business" section appropriately, using relevant keywords organically.
Make sure to choose the right primary category.
Add photos regularly for enhanced audience engagement.
Focus on getting as many favorable Google reviews as possible.
Regularly post on your Google Business Profile page.
Add relevant content to the "Questions & Answers" section.
Technical SEO
Last but not least, it's important to understand no matter how well-designed your website is or how great the content – you'll never rank if the technical SEO is out of order.
Why?
Because if your website's technical SEO is messed up, Google won't be able to find, render, crawl, and index your website/web pages.
This is a topic that demands a separate guide in itself, but let us briefly enumerate the technical SEO elements to give you an idea –
Javascript
XML Sitemaps
Structured Data
Duplicate Content
Site Architecture
Thin Content
Breadcrumb Navigation
Title Tags
Meta Descriptions
Internal Linking
URL Structure
404 Pages
Hreflang
Canonical Tags
301 Redirects
Responsive Website – Mobile Friendly
Page Speed (Eliminate Third-Party Scripts if Possible)
Technical SEO is focused on improving your website's interaction with search engines while optimizing and improving user experience. You need to constantly watch your website's architecture and technical SEO elements to ensure your marketing efforts meet the desired end results.
Final Thoughts
There's no doubt that roofing SEO is a fairly complicated process, and it does take time. For most roofers, taking time out of their busy schedules is impossible to develop and implement an active and effective roofer SEO strategy.
Hiring an SEO company makes more sense because it allows you to focus on core business activities while leaving the complicated SEO strategy development and implementation to the professionals.
SEO companies don't only craft custom SEO strategies but track results to make relevant changes as needed for better results (Increased ROI).
It's important to remember SEO will not work like a magic wand, at least not initially. You need to give it time to catch traction, and when it does, the snowball effect can turn around the future of your business.
The roofing industry might seem overcrowded, and if you haven't started already, you're already late. But it's better late than never.
Trust us - roofing SEO is worth it!
FAQs
What Is Roofing SEO?
Roofing SEO is about helping a roofing company rank higher in Google Maps and on the organic results page. This will help the business capture more leads and win more work.
What Is The Best Advertising For A Roofing Company?
The best advertising for a roofing company would have to be SEO. The reason SEO is the best advertising for a roofing company is because of the intent of the user. If someone were to Google "Roofer Near Me." They want someone close to them NOW! Appearing high in Google with help land more serious leads.