ZimmWriter is an AI content generation tool developed by Matt Zimmerman. ZimmWriter in combination with SEO tools like Page Optimizer Pro has been able to achieve fantastic results on Google as shown in the screenshot below. In this ZimmWriter review I will cover all the features and results of using one of the best AI content generation tools currently available.
What Is ZimmWriter
ZimmWriter has been taking the AI community by storm. The powerful tool can generate fantastic AI content at the click of a button. The results can vary. However, many of these articles have been able to rank on the first page of Google. The tool was created by Matt Zimmerman from Ranking tactics. ZimmWrtier utilizes Open AI API's and your computers desktop to create exceptional AI content.
Features Of ZimmWriter
ZimmWriter has a list of four current AI content generation feartures. Those are as follows,

1-Click Blog Writer
SEO Blog Writer
Bulk Blog Writer
Local SEO Buffet
For this indepth ZimmWriter review, I put each AI feature to the test for over four months. I will cover each one in detail and inform you how they performed in Google.
1-Click Blog Writer
The 1- click blog writer in ZimmWriter I found to not perform as well as I had hoped. Whilst it is extremely easy to use, simply enter in your target keyword and the AI generator will produce the content. I found the results we not satisfactory. If I take the time to create content, I do so with the aim of it ranking and supporting other content. After I produced a few AI articles with this Zimm feature, I stopped using it.
ZimmWriter SEO Blog Writer
The SEO blog writer feature offered by ZimmWriter is by far the one of the best AI content tools I have used to produce content that ranks and is easily consumed by any reader. The problem with most AI tools is that the content created usually reads horribly and doesn't perform well on Google. I have found that the SEO blog writer when used in combination with other tools like Page Optimization Prop (POP), you can rank and even take the top spot on Google. I have even provided examples of this in the sections below.
How To Use The SEO Blog Writer
Unlike the 1-click blog writer, this AI content generator enables you to edit many of the intups from the tool, in this example, I will use the keyword "How To Repair A Leaking Tap." You can then add the keyword to the SEO title and the ZimmWriter software can automatically produce additional headers required for your article. While you can do this I would recommend gathering the data from POP to help you create more accurate headings. You can also dictate how long and how many H2's and H3 headers you would like to implement within your article.
Once you've setup your headers you will need to configure the AI article generator. With ZimmWriter, you can create lists, tables, FAQ's and even tick the box to help pass AI detection. In fact in the article used in this example, I have selected that box, so let's see how well it stands up against AI detection. I would suggest using personal and professional tone when inputting the structure of the communication. That helps with a more first-person feel.
Finally, ZimmWriter will allow you to enter in as many additional keywords as you could want. This is where I place all of the keywords from POP. That will help you place the appropriate keywords within your article to help it rank well on Google.
Bulk Blog Writer
The bulk blog writer is similar to the 1-click writer, only on a larger scale enabling you to create up to 70,000 words of content in one go. You can also edit many of the features you would find in the SEO blog writer, the tone of voice, enable list, tables, FAQ's and even boost the detection of being real. This feature used to only be for up to 10 blogs. However, recently the ZimmWriter team has updated that to the current amount and it is rumoured that it will be increased even further.
The results I found with the bulk blog writer were mixed. Some of the articles would not be index while others were ranking on the top page of Google. So, accurate results of the outputs were alwaysed varied.
Local SEO Buffet
The local SEO buffet is the ideal SEO city geo location page builder. You simply enter in the city and the service you offer in that location and let the ZimmWriter do the rest. In fact, you can enter up to 25 different locations and services your business provides. You will need to enter some additional information such as unique selling points, the benefits of your using your service and the business name.
Essentially, this is a mass page builder without the creation of the actually pages. The content is usually of good quality, and spun uniquely enough it can get indexed. However, my team has never uploaded one of ZimmWriter city pages as produced. We have always edited the final product to ensure it is indexed and ranked.
Results Of ZimmWriter AI Content
This ZimmWriter review wouldn't be complete without a field test of the AI content tool. Thankfully, we have prepared a test. Currently we are sitting in position two for the keyword "carpet cleaning SEO." This is a ZimmWriter article. However, we did include the optimization recommendations from POP. We are so checking from outside of the US at the time of writing this review. However, most SERP tools still show us somewhere up the top across the states for the target keyword.
Does ZimmWriter Pass AI Detection
For the purposes of this test we ran the article "How To Repair A Leaking Tap," through two AI detection tools one paid and one free. Unfortunately, the ZimmWriter article failed both tests.
Content At Scale AI Detection
Unfortunately, it appears that this ZimmWriter article failed the free AI detection test.
Originality AI Detection Test
The article didn't fair too well when tested y originality AI, a paid AI detection tool.
ZimmWriter Price
ZimmWriter price will depend on the package you select. Currently, there is the life time deal for $197. Or you can purchase the monthly subscription at approximately $10 per month.
It is important to keep in mind that you will require an Open AI API to run ZimmWriter which will cost you a few cents to create each article. On average, I found that overall cost per article was $.35. Incredibly cheap for each article.
Pros And Cons Of ZimmWriter
Pro's
I have found ZimmWriter to be an exceptional AI content generation tool. Though this test didn't pass the AI detection, it is our go to content generator. The fact the tool is extremely cheap is an enourmous benefit. Most AI content tools are demanding monthly subscriptions with what can only be classified as ridiculous mark ups. ZimmWriter's cost is extremely well priced and fantastic value for money.
Con's
In my reviews I ensure that I provide accurate and non bias information. That's why I do have some con's with the ZimmWriter,

Failing AI detection: Even though Google has stated that AI detection is okay, I like doing the opposite of what Google states. It's always the safe choice
Can't Edit Lengths: I would love to be able to set the content length. My team produce content that matches the SERP, I want ZimmWriter to be able to set the length of the content.
Desktop Installation: The reason ZimmWriter is a lot cheaper is because it is installed on your desktop and not a cloud based software. This drives down the cost but it means that each team member must have their own tool installed on their computer.
Use ZimmWriter With Other SEO Tools
All Ai tools can be great, however, If you want to achieve the results that we have been able to achieve you will need to utilize ZimmWriter in combination with other AI tools like POP. You can also use other tools like Frase and Surfer to help maximize your edge of your competitors.
Final Thoughts On ZimmWriter
In the ZimmWriter review I wanted to ensure that I cover all aspects of the tool. I wanted to see how it would perform in Google and if it would pass AI detection. I can confirm that with the help of tools like POP, you can end up on the top of Google. The AI content creator has the best value for money when compared with other expensive AI tools like Jasper. We could never seem to achieve results like we can now with any other tool. For the one of price of $197 or a monthly subscription at $10, it is well worth it, so enjoy ZimmWriter AI.
Building a magnificent website for your roofing website is not enough. You must rank high in search engine results to attract organic traffic. It is what would help generate leads and convert prospects into lifelong customers.
And this is where the role of roofing SEO comes into the picture.
So, do you need to be a roofing SEO expert to push your roofing website up in the search results?
Well, not exactly, but SEO is a complex, ongoing, and tenuous process that's best left in the hand of SEO professionals with years of experience.
If you plan to do roofing SEO by yourself, there are a few things you need to keep in mind, such as –
Have sufficient knowledge of digital technologies and platforms.
Know the fundamentals of Search Engine Optimization (SEO)
Have a good understanding of how to develop an effective roofing SEO strategy.
All this can be puzzling for roofers new to SEO and trying to penetrate an already competitive market.
This is why we have put together this comprehensive guide on SEO for roofing businesses, walking you through the various SEO processes, strategy building, and other relevant elements, guiding you toward achieving SEO success.
What Are The Key Elements Of Roofing SEO?
Though search engine optimization is an elaborate and ongoing affair, not to mention ever-evolving, a few time-tested SEO techniques, processes and elements form the fundamental structure of your roofing SEO strategy.
These roofing SEO elements include –
Key Ranking Factors –These are factors that Google and other search engines consider to get your roofing website featured in organic, paid, and local search results.
Keyword Research– It is a process of unearthing relevant keywords based on search intent and keyword analysis, boosting the chances of your website showing up when customers look for roofing and related services.
Content Marketing Strategy– It revolves around creating relevant content with focus keywords to drive organic traffic to your roofing website. It also helps establish you as an authority in the roofing domain in due time.
Link Building– This involves implementing link-building strategies to get links on authoritative websites, pointing back to your money site.
Technical SEO –This is one of the more complicated but vital aspects of SEO for roofing businesses, including website design, on-site SEO, and other methods to help enhance the overall user experience.
Off-Page SEO –This revolves around populating your website on other relevant traffic-generating venues to enhance visibility, create brand awareness, and grow your brand organically. Some crucial elements to focus on include Google Business Profile (earlier Google My Business), Social Media, and Roofing Directories.
Local SEO –The Local SEO strategy focuses solely on optimizing your SEO strategy to rank higher in local (near me, nearby, geo-specific) search results. One of the primary aims is to rank in Local Pack and Map Search results.
Paid Marketing– In terms of SEO for roofing business, this involves achieving higher traffic through PPC marketing and Local Search Ads.
Tracking Campaigns– Measuring your SEO campaigns reach and ROI is crucial to make the most of your marketing dollars. Roofing companies should implement various ways to monitor and track roofers SEO campaigns, ensuring it's on the right track and if any tweaks need to be made.
It's important to note here that search engine optimization doesn't offer instant results and is an ongoing process.
Deriving tangible results from SEO takes time, and being patient yet consistent with your efforts is the key to achieving success with SEO for roofing business.
While you can choose to do roofing SEO for yourself, it's always a good idea to let our professionals take care of SEO for your roofing business while you focus on your core business activities.
Now, without further ado, let's dive into what roofing SEO is and why you should focus on it!
What Is Roofing SEO?
The primary aim of SEO for a roofing business is to rank higher in search engine results.
The process involves improving your website's technical and SEO elements to boost the overall user experience while building credibility and an online reputation.
Simply put, when a prospect types in the search engine "roofing services near me" or other similar roofing-based keywords, your website should show up on top of the search engine results.
The higher the rank in SERPs, the higher the chances of driving targeted traffic and customers to your website. And it translates into more leads and booked jobs.
A well-planned and implemented roofing SEO strategy can skyrocket your sales. In contrast, dull or amateurish SEO efforts can backfire and drown your hopes of getting a lead over your competitors.
Neglecting SEO for roofing businesses is one of the biggest mistakes most roofing companies make.
Why Is SEO Important For Roofing Companies?
When was the last time you searched for something on Google and continued your search beyond the first page into the second, third page, and beyond?
Probably never!
If your roofers website is not on the first page, forget the results, you won't even see any organic traffic. It's because only 2 to 3 percent of users ever visit the second page and beyond. Generally, anything beyond the first page can be referred to as a graveyard.
Moreover, the first-ranking website in SERPs gets 35 times more clicks than the one ranking tenth.
Roofers SEO helps increase your online visibility, making it easier for your customers to find you. More than 85 percent of customers look for roofing contractors or other local service providers online.
If you want to divert customers searching for roofing companies online to your website, it's important to focus on SEO.
Still not convinced?
SEO brings you nearly nine leads for every lead generated through traditional marketing measures, making it the most effective marketing technique known today.
Invest in roofing SEO, or see your competitors pass you by!
Let us further distill the benefits of roofing SEO for clarity.
Benefits Of SEO For Roofing Business
SEO is among the most effective inbound marketing strategies.
It sets up your roofing business to have prospects come to you instead of you having to go out there and find customers.
Some of the benefits of roofers SEO includes the following –
Cost-Effective
SEO costs a fraction of traditional marketing measures while offering a much higher ROI.
It is one of the best investments you'll make for your roofing business, helping drive organic traffic to your website and eventually translating into more customers.
SEO costs depend on many variables, including the SEO professional/agency you hire, market competition, current website rankings, website analysis, content strategy, local market, SEO objectives, and more.
The typical cost of SEO for a roofing business to achieve desired results starts from $1,000 to upwards of $5,000.
It also depends on how aggressive you want to be with your SEO marketing efforts and your marketing budget.
Roofing SEO Helps Attract Quality Leads
One of the key benefits of roofing SEO is it gets you half-baked, high-quality leads. In other words, roofers SEO helps you get targeted leads with hands on their purses and already looking for the roofing services you offer.
Roofing SEO drives organic traffic and high-intentioned visitors to your website who are already halfway through the closing by the time they contact you.
No one searches for "Roofing services in Austin, TX" for fun, agree?
So, when a customer searches for these terms and your website ranks for these search-intent-based keywords, it becomes easier to attract, capture and convert these leads.
Roofing SEO builds the bridge between your roofing company and these targeted leads, ensuring higher revenue generation.
SEO Keeps On Giving – For A Longtime!
Search engine optimization has a much longer lifespan than all other traditional marketing measures put together.
Optimized websites and webpages continue to bring in quality leads for your roofing company day in and day out for years. It works round the clock for you!
Many roofing companies report getting targeted leads each month from one high-quality blog post.
However, frequently adding new content to your roofing website is important. Also, don't forget to repurpose old content to make it contemporarily relevant and valuable for your target audience.
That said, there's no denying that SEO is time-consuming, but it's worth the effort.
Once your website is positioned well in the search engine, ranks for your target keywords, and your brand visibility increases, there's no going back.
Continue fueling your roofing SEO efforts in an ongoing manner, and your roofing business will become a brand to reckon with in the roofing space.
Build Brand Credibility & Trust
No roofing contractor can deny that being a well-known name in the roofing space helps close leads faster.
Your roofing company might provide one of the best roofing services, but if it's not well-known in the roofing industry, isn't visible online, and doesn't have a commanding online space, it reflects poorly on your roofing business.
Focused roofing SEO will help position you on top of SERPs for your targeted keywords. For consumers, it means that Google validates your website/brand as offering value over your counterparts, which is a big plus when closing leads.
SEO helps build your roofing company as a well-known, credible brand and establish you as an authority in the roofing realm.
This is made possible by following various SEO best practices like in-depth keyword research, optimizing content, building relevant backlinks, fixing broken links, improving UX/UI, and more.
SEO doesn't only help expand your presence online but optimizes your website and end-user experience. This means roofing SEO doesn't only focus on bringing traffic to your website but ensures they stay there.
It needs continued effort for sure, but what good thing doesn't?
Roofers SEO Guarantees Higher ROI & Conversions
As mentioned above, roofing SEO drives traffic to your website, which eventually means more leads and increased conversions.
Regardless of your call-to-action, whether requesting a free quote, booking an on-site roofing inspection, scheduling a consultation call, or anything else, roofing SEO can articulate its processes to achieve your business objectives.
Moreover, SEO is highly quantifiable, so you get detailed insight into the metrics that help calculate ROI and conversions.
Local Roofing SEO – Reach Out To Local Customers!
Roofing companies have a narrow operating territory. Typically, a local roofing contractor catering to Irvine, CA, can't service clients in New Jersey City, NJ.
Roofing companies need to reach out to local customers, which is what local SEO helps with.
It's an integral part of any roofing SEO strategy as it helps optimize the website and its content for local search rankings.
This helps your roofing website appear in specific geo-searches and rank in Google's Local Pack, which is key to getting more phone calls, leads, and booked jobs.
Local SEO revolves around geo-targeted content optimization, optimization of Google Business Profile, and local business listings. (More on this later)
SEO gets you more traffic than pay-per-click marketing, and it only makes time to feed your SEO campaign consistently over time.
When done right, it's life-changing because the roofing industry is huge, and U.S. homeowners spend over $12 billion each year on roof replacement, installation, and repairs.
A properly planned roofing SEO strategy can help you get a good chunk out of it!
Cons Of SEO
Roofing SEO is non-negotiable for any roofing company that aims to grow and dominate the market.
However, there are certain drawbacks you should keep in mind to have a realistic approach.
SEO Is A Time-Consuming Process
SEO takes a considerably long time to generate results, unlike PPC marketing.
Understanding, following, and implementing SEO best practices is an uphill task, combining many SEO techniques to get desired results.
The efforts build up over time to fetch the results you're looking for, so it's important to brace yourself for it.
If you want quick results, SEO is not for you.
Substantial Investment Of Time & Money
Roofing has become a competitive niche, with more and more roofing contractors going online.
While it doesn't mean there's no space left for you, it does mean that you need to invest in SEO to get results.
Also, roofing SEO demands hours on keyword research, content creation, generating backlinks, technical SEO, competition analysis, and more to outrank your immediate competitors.
Investment of both time and money does pay back eventually many times over.
SEO Doesn't Always Guarantee #1 Position In SERPs
Roofing SEO is an effort to tell Google you bring value to the table for your consumers. And there are tons of other roofing companies telling the same to search engines.
Which one wins the race and ranks on top of SERPs is completely at the discretion of the search engines.
With sincere efforts and a solid roofing SEO strategy, there's no reason you can't outperform your competitors, but there's no guarantee.
Even if you achieve the first position in SERPs, only continued efforts will help you stay there, as the race is never-ending. A little slack, and you can be de-positioned.
Focus on offering value to your customers; things will eventually turn to your advantage.
Algorithm Changes
Roofing SEO is about following best industry practices and hoping the tables turn in your favor. Unlike PPC marketing, SEO doesn't offer you total control of your marketing campaign.
Google is constantly changing its algorithms to provide relevant results to users.
According to Google, an average of six algorithm changes are made daily. This means you must stay updated with the latest Google updates and market trends to stay ahead, which is a time-hungry process.
How To Keyword Research For Roofing SEO?
Having discussed the pros and cons of roofers SEO, let us dive deep into the key aspects of roofing SEO, and keyword research is where it all starts.
Keywords are basically words and phrases users enter into the search engine when looking for your roofing services. Ideally, you would want to rank for all high-volume roofing keywords in your area.
Keywords fall into two primary categories –
Short-Tail Keywords
Long-Tail Keywords
Identifying which roofing keywords to focus on depends primarily on thinking – what, where, and why – for your target audience.
It can be enumerated as –
Where is your target audience searching from? (Defining the location of your target audience)
Why are they searching? (Are they looking for information or service?)
What is your target audience searching for? (Does your roofing company offer what they're looking for?)
Focus on the users' search intent, and you'll have a list of keywords to target. And then get more and more specific with these search-intent-based keywords to garner relevance and visibility.
Local Keywords
In roofing SEO, one other keyword category, namely Local Keywords, plays a vital role.
For example, let's say you have a metal roofing company in Cleveland, OH. You would want to build content around keywords such as –
Roof Repair Cleveland, OH
Metal Roof Replacement Cleveland, OH.
Metal Roofing Company Cleveland, OH.
Metal Roofing Companies Cleveland, OH.
Metal Roof Repair Cleveland, OH.
Metal Roofing Company near Cleveland, OH.
Metal Roofing Cleveland, OH.
And so on.
Work around every possible variation of the phrases mentioned above, and your website's content will be geo-optimized for local searches in your target business area.
Short Tail & Long-Tail Keywords
Keywords that are three words or less are classified as short-tail keywords and are more generic, e.g., metal roofing.
Long-tail keywords are four words and above and help target a more specific search query, targeting a relatively narrower audience. And over 70 percent of searches online involve a long-tail keyword.
Here let us see the progression of a short-tail keyword to a more specific long-tail keyword.
Roofing
Metal Roofing
Roof Repair
Metal Roofing Repair
Metal Roofing Repair Cleveland, OH.
Metal Roofing Repair near me
Metal Roofing Repair in Cleveland, OH.
Even if the search volume decreases when you check the metrics of long-tail keywords in keyword research tools, you'll notice the conversion increases as it gets more granular.
It is because someone searching for "metal roofing repair in Cleveland, OH" is most probably looking for the service, and now!
Competitors Keywords
And while we are on the topic of keyword research, let us not forget to peep into the keywords your immediate competitors are using.
There are SEO tools that help you decode your competitors' roofing SEO strategy and the keywords they're using to get leads/sales.
Incorporate those keywords into your roofing SEO and content strategy, and you'll notice the table turning slowly but surely!
Content Optimization Strategy for SEO in Roofing Business
Content is the cornerstone of your roofing SEO strategy and is rightly referred to as the king of SEO strategy. Without valuable content on your roofing website, it's impossible to achieve success with roofers SEO.
You need optimized content for the website of your roofing company that is –
Easy to Read
Engaging
Relevant (matches users' search intent)
Compelling
Featuring target keywords in the right Keyword density. (Do not stuff keywords)
Publishing high-quality content that offers your target audience information, solution, and value will help you stand out in an overcrowded roofing industry.
The content should be such that whenever someone is looking for information or answer to roofing-related questions, your brand/website is what first comes to their minds.
There are different types and formats of content to include in your roofing SEO strategy, including –
Roofing Service Pages (And sub-pages)
Blogs
Resource Pages
Long-Form Content (Guides, Listicles, How-Tos)
Infographics & Images
Videos
The key to developing a winning content strategy is not only creating valuable content but creating it consistently. You can't publish a blog today and the next after three months.
Create a content calendar and religiously publish high-performing content (mix and match the variety of content you publish) after thorough keyword and competition analysis.
Make it a point to keep your blog and other dynamic pages on your roofing website well-fed.
Also, when it comes to roofing SEO, the minimum word count we suggest is over 700 words to bring value to your target audience without biting words and valuable information.
Pro Tip: Publish at least 3-4 "Giant Guides" on your roofing website. Google loves comprehensive content/guides. If you know your target audience's common pain points, develop guides around those to win brownie points with your audience and Google.
Link Building For Roofing SEO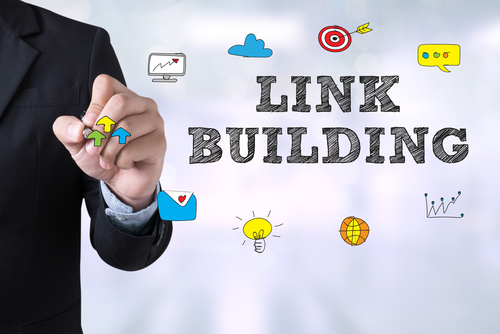 Links are among the top three Google ranking factors.
Ignoring link building in roofing SEO is like self-sabotaging your SEO efforts.
Link building can be defined as increasing the number of links pointing back to your website. However, developing links rampantly can backfire as the links should be from reputable websites.
What link building does is showcase to Google that your website's content is valuable. It also helps get some traffic from referring websites.
While natural linking is the best practice when it comes to link building, using purchased links does help as well. And purchasing links for roofing companies can be expensive.
Effective link-building strategies you can use for SEO in the roofing business include –
Guest Posting
Social Media
Online Directories
HARO (Help a Reporter Out)
Broken Link Building Strategy
Create Quality Content
Another aspect of link building often overlooked is scanning for links pointing back to your website and identifying bad links.
Do this periodically and disavow bad links, as they can harm your website's ranking and may even attract a Google penalty.
Local SEO for Roofing Business
One of the most important aspects of roofing SEO is optimizing for local SERPs, which is what local SEO is all about.
Unless your roofing company offers nationwide services, you'll need people from your business area to visit and book on your website.
Local SEO focuses on targeting customers from a specific geographical area. One of the key elements here is to rank in Local Pack showcased by Google, and about 93 percent of the time, it's showcased above traditional search results.
Why ranking on Local Snack Pack is important? Because it generates over 44 percent of all clicks in a search.
For a roofing contractor, it's a huge boost to be ranked in Local Pack.
Optimize your website for three factors Google look for when listing local search results, namely –
Distance
Prominence
Relevance
Getting listed in local websites and directories to derive local link juice can help back your efforts for local SEO for roofing businesses.
The key steps to rank in Local Pack are to set up, verify and optimize your Google Business Profile. To further strengthen your optimization efforts, do the following –
Optimize your Google Business Profile (GMB) Page – Add relevant details to all sections, including hours of operation, business name, business address, contact information, roofing service descriptions, roofing categories, attributes, etc.
Fill the "From the Business" section appropriately, using relevant keywords organically.
Make sure to choose the right primary category.
Add photos regularly for enhanced audience engagement.
Focus on getting as many favorable Google reviews as possible.
Regularly post on your Google Business Profile page.
Add relevant content to the "Questions & Answers" section.
Technical SEO
Last but not least, it's important to understand no matter how well-designed your website is or how great the content – you'll never rank if the technical SEO is out of order.
Why?
Because if your website's technical SEO is messed up, Google won't be able to find, render, crawl, and index your website/web pages.
This is a topic that demands a separate guide in itself, but let us briefly enumerate the technical SEO elements to give you an idea –
Javascript
XML Sitemaps
Structured Data
Duplicate Content
Site Architecture
Thin Content
Breadcrumb Navigation
Title Tags
Meta Descriptions
Internal Linking
URL Structure
404 Pages
Hreflang
Canonical Tags
301 Redirects
Responsive Website – Mobile Friendly
Page Speed (Eliminate Third-Party Scripts if Possible)
Technical SEO is focused on improving your website's interaction with search engines while optimizing and improving user experience. You need to constantly watch your website's architecture and technical SEO elements to ensure your marketing efforts meet the desired end results.
Final Thoughts
There's no doubt that roofing SEO is a fairly complicated process, and it does take time. For most roofers, taking time out of their busy schedules is impossible to develop and implement an active and effective roofer SEO strategy.
Hiring an SEO company makes more sense because it allows you to focus on core business activities while leaving the complicated SEO strategy development and implementation to the professionals.
SEO companies don't only craft custom SEO strategies but track results to make relevant changes as needed for better results (Increased ROI).
It's important to remember SEO will not work like a magic wand, at least not initially. You need to give it time to catch traction, and when it does, the snowball effect can turn around the future of your business.
The roofing industry might seem overcrowded, and if you haven't started already, you're already late. But it's better late than never.
Trust us - roofing SEO is worth it!
FAQs
What Is Roofing SEO?
Roofing SEO is about helping a roofing company rank higher in Google Maps and on the organic results page. This will help the business capture more leads and win more work.
What Is The Best Advertising For A Roofing Company?
The best advertising for a roofing company would have to be SEO. The reason SEO is the best advertising for a roofing company is because of the intent of the user. If someone were to Google "Roofer Near Me." They want someone close to them NOW! Appearing high in Google with help land more serious leads.
Lawyer SEO - The Ultimate Guide To SEO for Lawyers
What Is Lawyer SEO?
Search Engine Optimization (SEO) refers to the process used to optimize content relevance, technical configuration, and link popularity to increase visibility, popularity, and relevancy. As a result, search engines rank the pages better.
Search engines appreciate SEO practices that are beneficial to page ranking and user search experience. Excellent practices include meta descriptions, relevant keywords in titles, headlines, and descriptive URLs, among others. Search engines enable users to get what they are looking for on the internet. A law firm can direct traffic to its page if it comes up on the first page. Search Engine Optimization orients the website such that it receives more traffic on a search engine results page (SERP).
The aim is to rank the page at the top of Google search results and allows you to reach the target audience.
BENEFITS OF ATTORNEY SEO
Improves visibility
People go to the internet when they need something like attorney services. The law firms that come top of the search results have a higher chance of being contacted. A law firm can reach the top of search pages if the website is optimized for search engines. For example, a law firm can rank for keywords such as DUI or criminal attorney to emphasize your services.
Adding location to your keywords can also boost visibility because most people search for nearby services.
Boosts credibility
SEO activities such as guest posting and link building can help boost credibility. Your credibility will improve if you have reputable and relevant sources for guest posts and links. The activities can help position a law firm as a trustworthy and reliable source.
Providing relevant articles and content shows audiences that you understand a particular topic and can solve a problem. Building trust and credibility allows you to get more traffic and foster organic traffic. Traffic translates to the revenue you will get.
Makes you more competitive
The legal service market is very competitive because there are many law firms. It can be hard for small law firms to compete with established ones because the large firms believe that reputation will attract clients. They don't rely on marketing to have an edge over other competitors. SEO provides a flat ground to compete with industry clients.
You can position yourself as someone available to clients if you put the right strategy in place. You will have an advantage because people are most likely to choose a firm with a strong presence and can be found easily. Also, you won't need to invest a lot of money in marketing strategies because SEO is more affordable.
Boosts exposure
An online presence is important for the success of a business in the current world. SEO gives you exposure by providing a strong online presence, which helps convince online consumers to contact your firm for legal assistance. The content you publish on different platforms boosts trustworthiness and relevance.
A strong social presence can help build relationships if you offer the same content or link them to your page. Many people will know about your services even if they don't need them currently. It can build a community and raise awareness among potential clients who can contact you if they ever need legal advice or representation.
KEYWORD RESEARCH AND ITS IMPACTS ON SEO FOR LAWYERS
What is keyword research?
In simple terms, keyword research refers to the identification of queries and terms that people use in the Google Search Engine.
It starts by identifying legal keywords that target your site and can bring organic traffic. You have to find keywords that people could be searching for, and that can make your site rank.
Keyword search parameters
You can use some parameters to identify the right keywords for your law firm's SEO campaign. They include:
Keyword Search Volume
This refers to how frequently a particular phrase is searched in a certain locality or country in a month. Note that it only considers Google searches and not other search engines. The numbers are not accurate because it is not an official Google metric. Also, there is a common myth that popular keywords equate to more traffic. This isn't true because a subject's popularity determines traffic.
Keyword difficulty
There are different tools that can tell you how hard it is to rank a particular keyword. A low-difficulty keyword can rank faster and drive more traffic. Therefore, try to find a low-difficulty keyword for your law firm.
Keyword intent
The keyword intent shows where a potential client is in the buying journey. Prioritize keywords with buying intent because they can get you ideal clients to your website.
How do you find lawyer SEO keywords?
The most popular tactic is to enter a seed keyword into a tool and write content using high-volume keywords which is the best strategy you should use for lawyer SEO. However, this tactic isn't effective because search volume data is not usually accurate. Also, don't just aim for readers on your site. Aim for people who can read your content and hire your services. Thoughtful keyword research can help attract potential clients to your website. Below are strategies to find the perfect keywords for your site.
Identify the top legal questions of your potential clients
The first step is to research top legal keywords instead of relying on a tool. Make a list of the top questions your potential clients frequently ask on the mail or phone. Map keyword ideas from the questions that clients ask. You can begin creating content out of keyword ideas.
This strategy can help you find the best keywords with low difficulty and can help you drive traffic to your website. Don't worry if a keyword research tool ranks low because these tools aren't accurate.
There are many legal forums online that can help you find questions that potential clients ask. This strategy is effective if you are just starting and don't know what questions to expect. You can narrow down the questions and only use ones that are relevant to your services.
You can see the questions that people ask and filter them for the most relevant ones. You can use a keyword research tool to choose to get keywords related to the questions.
Competitor analysis involves checking on your competitors to identify keywords that they target. You can then target these keywords to increase visibility. Competitor analysis can help you understand the SEO strengths in terms of keywords. It can also help you identify weaknesses and take the necessary steps to avoid those mistakes.
Finding competitors isn't hard. Look for law firms that rank the keywords you are targeting, and you are good to go. There are direct competitors and indirect competitors. Direct competitors are firms in the same market as yours and offer the same services. Such law firms practice the same category of law as your firm.
Indirect competitors are law firms that don't compete with you but appear on the top pages of Google search results when your target keyword is searched. You should strive to jump over them in Google searches.
Don't go for keywords that have greater difficulty, especially if law firms rank them with higher domain authority.
Use Google Search Console
Sometimes, you may have keywords get organic impressions but don't turn to click. The Google search console can help you find such keywords.
What are the most popular keywords for Seo for Lawyers?
Below are some of the most popular keywords that you can start with. Add location modifiers to make them more effective.
DUI Attorney
Personal injury lawyer near me
Immigration lawyer
Divorce lawyer
Criminal lawyer near me
Car accident attorney
Business law
Best keyword tools for lawyers
Google Trends
This free tool allows you to identify trends in consumer interests. It can show you the trending keywords and if the demand has grown.
Keyword planner
Google has lots of raw data compared to anyone, and the keyword planner is the best place to start. Their analytics give you a peak at a broad subsection of the internet.
It can help you research keywords relating to your law firm. You can even put the URL of your competitor's site on the tool, and it will identify the keywords they are using. You can then use the keywords yourself.
SEM Rush
SEM Rush keyword explore is unique because it can calculate searches that turned into real page visits and detect opportunities other tools miss. It also helps with competitor keyword research and strategies. SEM Rush will also send you a mail if your competitor's ranking improves.
On-Page SEO
On-page SEO involves publishing high-quality content, using HTML tags, and optimizing your titles and images. It also ensures that your website is authoritative, trustworthy, and knowledgeable. Below are the areas you can focus on in your On-page law firm SEO strategy,
Internal links
Internal links are text links that connect two pages with a similar domain. The process of developing internal links is called internal link building. These links can help users reach the content they want without searching for long.
E-E-A-T
Experience, Expertise, Authorship, and Trustworthiness (EEAT) are used by Google raters to evaluate websites, content, and the whole web. Google usually puts a premium on quality content and can reward sites with superior content. It is hard for websites with low-quality content to rank and be visible.
High-quality content is directly related to what you see in the search results. E-A-T is a major element in organic search results.
Title Tags
Your title tags should be keyword-rich, descriptive, and unique. The title tag is the HTML tag you see in the head section of a web page. Title tags give context or a clue about what a page is about. These tags are the most important part of on-page SEO. Include the target keyword in the title tag and ensure it is enticing and compelling to make sure that people click on them.
Meta Description
Meta Descriptions have been important for on-page SEO since the beginning of Google ranking. Meta descriptions and their content is displayed in SERPs under the meta tag. You can boost the perception of your site offers if you optimize your meta descriptions.
According to Google, your meta tags don't improve ranking. However, excellent descriptions can improve the perception of the value and quality of your content. It can also boost your click-through rate.
Headlines
The first people that people see on a webpage is the headline. An attractive website automatically translates to more clicks.
Therefore, it's important to come up with attractive and interesting titles to make readers click on them to read more.
Headings can break or make a blog post. You must ensure you put keywords in the titles to boost ranking. Avoid cramming many keywords into one heading. Spread your keywords and use different forms of keywords on your page.
Header Tags
There are different HTML elements, from H1 to H6, that can help you differentiate subheadings from headings. Header tags don't improve the rankings significantly but can make your content more accessible and valuable for users.
Header tags help web crawlers understand what your page is all about and help readers get a glimpse of what the page is all about without reading through the entire content.
SEO Content Writing For Lawyers
Lawyer SEO writing involves creating content that readers and search engines can use. Writing high-quality content needs a strategy apart from keyword research. Note that you are writing content for readers and not the computer or smartphone. Therefore, the content should sound human and not robotic.
Lawyer SEO Writing Tips
Avoid overusing keywords
Keyword stuffing was used by unscrupulous SEO professionals to force ranking. Google doesn't entertain keyword stuffing and may even demote sites that do this in SERPs. The keywords should be natural to prevent stuffing.
Focus on readability
Users should easily scan your content to help them find whatever you are looking for quickly.
The paragraphs and sentences should be short
A wall of text can piss readers off if they click on your webpage. You should keep the sentences and paragraphs brief to avoid driving users away.
Use bulleted lists
Bulleted lists break down the text into more digestible chunks. You can use bullet lists only if it makes sense.
Subheadings
Subheadings stand out from the text block because of their size. It sparks the attention of readers who scan the page and can guide them as they continue reading.
Image optimization
High-resolution pictures make your page appealing. However, large pictures can slow down the page, impacting the page's ranking negatively. Therefore, you should optimize your pictures and make them shareable. It can help identify backlinking opportunities, boosting E-E-A-T.
Image optimization helps rank your page because it can appear in image searches. It also enhances user experience and boosts page loading times.
Images can support your page's content if you use descriptive titles and ALT tags.
User Engagement
It's quite hard to keep your readers engaged, but you can do it. You can boost user experience by working on
content optimization, site speed, and user experience.
UX signals
UX signals are used by Google to estimate behavioral patterns and know how they experience your webpage.
The two important metrics that Google uses are click-through rate and bounce rate. These metrics can affect your rankings, and you should learn how to use them to your advantage.
Bounce rate
Bounce rate refers to the percentage of readers who open your page and leave without interacting with your content. A high bounce rate means that users aren't interacting with your content. Know your bounce rate to understand what you can work on to improve user experience.
Click-through rate (CTR)
CTR refers to the number of individuals who click on a link to a site. The CTR is the sum of all impressions and clicks. A high CTR shows that your content is useful and relevant.
Why should you focus on UX signals?
The UX signals are important because they show the quality of information on your website. Relevant and high-quality content will keep visitors hooked on your site and make them stay longer. The bounce rate and CTR help you identify the pages that aren't performing well. You can then improve those pages and increase relevance.
Optimize for mobile friendliness
Many users use smartphones when looking for services, including legal services. You must make your website mobile-friendly if you wish to maximize the SEO of your legal website.
According to research, over 40% of online users leave a page if it takes more than 3 seconds to load. Your page will be very slow for mobile phones if you don't optimize it. You can get more traffic to your site if you adopt a mobile-friendly design.
BACKLINKS
A law firm should focus on link building to boost authority in the eyes of search engines. Attracting high-authority links can lead to more traffic and higher rankings.
However, attracting backlinks to your law firm's webpage isn't usually easy. You have to be creative to attract the right links.
Why are backlinks important?
Backlinks are basically a vote of confidence from another website to yours. It shows readers that your website is a good source of information. It shows Google that your content is legitimate and should be ranked higher.
You can get backlinks naturally by creating engaging content that will trigger the attention of other website owners. However, you have to be proactive to increase Google ranking. Note that Google values natural links more than purchased ones. Purchasing links is risky and can lead to penalties.
How to get backlinks
The easiest way to get backlinks is to ask legal bloggers and other law firm owners to link to your site. For instance, there are many bloggers that list the top lawyers in your locality. Getting on such lists can help people looking for legal services come to your website.
You can get your law firm listed on many local directories to get backlinks. Some of the popular ones include YellowPages and Yelp. Check for directories that focus on your locality because they are more relevant and easier to get into.
Niche directories work the same as local directories but focus on a specific industry. You need to find directories relevant to local industries, such as Findlaw and Avvo.
Such directories have followed links that can send traffic to your site. These directories even allow you to collect reviews, which is a good way to build social proof.
media platforms such as Twitter, Facebook, Instagram, and LinkedIn allow you to insert links to your website on your profile. Some of these links aren't followed but can send traffic to your website.
Getting a backlink from the local Chamber of Commerce is a huge step. These links are usually guaranteed and legitimate.
You may need to register with the chamber of commerce to be listed. Contact your local representative to help you with the process.
Links from Better Business Bureau can bring traffic to your site, although they are no-follow links.
Note that BBB listings cost money, but it's worth it. Your locality and the number of employees in your law firm determine the pricing.
BBB is a legitimate site and won't attract any penalties from Google.
Don't underrate university websites because they can help you get a legitimate backlink. Check out if your university has an alumni page and ask them to link your website.
Final Thoughts On SEO For Lawyers
Search Engine Optimization is important for every lawyer and law firm because you may get a significant number of clients from the internet and your local area. You can only get clients if your page is visible and ranks higher in Google search results. Also, you should write high-quality content to keep users engaged on your site. The good thing about SEO is that it gives everyone's law firm, including the small ones, a fairground to market themselves.
It might be overwhelming for law firms to know the ins and outs of lawyer SEO. It's, therefore, wise to hire an experienced SEO professional to help optimize your page and make it rank higher. They will also relieve the burden of dealing with the technical parts of law firm SEO.
Carpet Cleaning SEO - Ultimate Guide To SEO For Carpet Cleaners will cover everything you need to successfully rank your website.
Carpet cleaning is a long-standing practice, having been around since the days of yore. In modern times, carpet cleaning has become more sophisticated and efficient with the use of SEO strategies to maximize visibility in search engine results pages (SERPs). This article will discuss how implementing an effective SEO strategy can improve a carpet cleaning business's organic reach and help it stand out from its competition.
SEO stands for "search engine optimization" and refers to techniques that are used to make websites rank higher in SERPs such as Google or Bing. By optimizing web content using these methods, businesses are able to increase their online presence and brand awareness while also improving their chances of appearing at the top of SERP rankings. Additionally, by utilizing keywords related to their services, they can drive more traffic to their website and potentially generate more leads and conversions.
The ultimate goal of any SEO campaign should be to provide value to potential customers while providing them with relevant information about your product or service. Through this approach, companies can build trust with prospects who may eventually convert into paying customers. With proper optimization practices implemented on a regular basis, carpet cleaners can ensure that users find their products when searching for solutions related to carpet care.
What Exactly Is Carpet Cleaning SEO?
Carpet cleaning SEO is a form of search engine optimization (SEO) that focuses on optimizing content related to carpet cleaning services. It works by targeting keywords and phrases relevant to the field, such as "carpet cleaning content related to carpet cleaning services." It works by targeting keywords and phrases relevant to the field, such as "carpet cleaning," "SEO content services," and "local SEO services works by targeting keywords and phrases relevant to the field, such as "carpet cleaning," "SEO content services," and "local SEO services." This helps small businesses increase their visibility in online searches for carpet-related products and services.
The goal of carpet cleaning SEO aims to improve website traffic through organic search results. To do this, it utilizes tactics like keyword research, content creation, link building, and more. Through these strategies, a business can create an effective digital presence that will help it stand out from competitors in the market. Additionally, local SEO services can be used to target customers within a specific geographical area or region.
By utilizing the right carpet cleaning SEO strategy, businesses can gain higher rankings in search engine results pages (SERPs). This leads to increased web traffic, improved brand recognition and trust among potential customers, and better customer engagement with the business's offerings. These benefits all contribute towards achieving successful outcomes for any given company's marketing efforts.
Understanding the Advantages of SEO
The use of carpet cleaning SEO is gaining traction in the industry, with over 40% of all searches now using voice search. This has allowed businesses to optimize themselves for better rankings and reach more potential customers than ever before. With a proper understanding of how it works and its benefits, anyone working in the business sector can utilize this powerful tool.
Carpet cleaning SEO offers a myriad of advantages:
It improves search engine visibility by optimizing content for targeted keywords and phrases related to your services or products.
Organic traffic can be generated through unpaid channels such as social media platforms or blog posts.
It allows you to target specific audiences through geo-targeting techniques and attract new customers who are actively looking for your services or products.
Cleaning SEO not only applies to carpet cleaners but also rug cleaning companies, allowing them to gain an edge against their competitors and obtain greater visibility online. Companies that understand the importance of utilizing search engine optimization tools have seen drastic increases in web traffic, resulting in higher conversion rates, repeat clients, and ultimately larger profits. By putting time into researching different methods, tactics, and strategies associated with SEO, one can maximize their website's ability to rank favorably in SERPs while staying ahead of the competition at the same time.
The transition into what these carpet cleaners actually do is then required knowledge.
What Exactly Does A Carpet Cleaning Business Do
Carpet cleaning services have become an essential part of a carpet cleaner's business, and it is important to understand what they are in order to benefit from them. Carpet cleaners provide content services for SEO that help businesses rank better on search engine results pages (SERPs). This type of service includes the use of relevant keywords related to carpet cleaning, such as "carpet cleaning services" or "carpet cleaning marketing." Through these targeted keywords, businesses can increase their visibility online and reach more potential customers. Local SEO will be the primary focus of your SEO campaign.
In addition to this, carpet cleaners also specialize in developing strategies for optimizing customer experiences with digital channels. Such tactics may include creating content specifically designed for users searching the web using certain keywords related to the product or service being offered by the company. By utilizing SEO techniques like keyword targeting, companies can ensure that their site appears at the top of SERP rankings when potential clients conduct searches related to their industry. As a result, they can capture more attention from their target market and drive traffic back to their website.
By leveraging professional carpet cleaning services' expertise in SEO, businesses can position themselves as leaders in the field while providing high-quality products and services that meet consumer needs. With this approach, companies can gain greater brand recognition and boost sales over time through increased visibility on SERPs and an improved user experience across all digital platforms. To effectively capitalize on this opportunity, it is imperative for businesses to identify appropriate carpet cleaning keywords first before diving into any further optimization efforts.
Identifying Carpet Cleaning Keywords For An SEO Boost
When it comes to carpet cleaning, identifying the right keywords for business success is vital. Keywords are terms that search engine users type in when looking for a specific service or product, and businesses then use these words as part of their SEO strategy. It's important to note that keyword research can be complex, typically involving analyzing data from sources such as Google AdWords, keyword suggestion tools, and competitor websites.
Using this information correctly can help your carpet cleaning business stand out online by providing valuable content that will increase website visits and ultimately lead to increased sales. For example, using long-tail keywords such as "eco-friendly carpet cleaning services" may attract more customers than just "carpet cleaning." Additionally, understanding the difference between short-term and long-term keyword searches can improve click-through rates on paid ads while optimizing organic traffic too.
Having identified relevant keywords for your business, it's time to move on to developing an effective marketing strategy—one designed to maximize visibility so you can reach potential customers who need your services.
Creating A Carpet Cleaning Marketing Plan
Satire: Developing a carpet cleaning marketing strategy can seem like a daunting task, as if the only way to succeed is by living in a vacuum and playing mind games with search engine algorithms. But have no fear! A successful carpet cleaning business doesn't need this kind of sorcery—it needs studied insight into customer behavior, an understanding of competitive environments, and some creative thinking.
To develop an effective carpet cleaning marketing plan, there are several steps that should be taken:
• Identify your target market and determine their wants and needs.
• Utilize research-driven strategies such as SEO (search engine optimization) to increase visibility online.
• Implement tactics for promotion on appropriate platforms, such as social media or paid advertising campaigns.
By analyzing your competitors' approaches and leveraging new technologies, you can craft powerful solutions that meet the demands of modern consumers. By collecting data from multiple sources—surveys, interviews, and reviews—you can gain valuable insights into what it takes to make customers happy while still standing out from the competition. These insights will help shape your overall strategy and provide guidance when it comes time to implement projects across various channels. Additionally, these efforts may even reveal opportunities for growth that would otherwise remain untapped.
Ultimately, developing a successful carpet cleaning marketing plan requires dedication and hard work, but with focused effort, businesses can position themselves at the forefront of industry trends while remaining attuned to changing consumer preferences. With comprehensive knowledge of both markets and technology, savvy entrepreneurs could find they have all they need to grow their carpet cleaning business sustainably over time.
Growing Your Carpet Cleaning Business
Growing a carpet cleaning business is key to achieving success in the industry. To achieve this, businesses must understand their target market and create an effective marketing strategy. As the saying goes, "A journey of a thousand miles begins with a single step"—getting started on developing your carpet cleaning business requires taking that first step.
Businesses need to identify who their ideal customer is and what services they provide before designing a carpet cleaning marketing plan. Identifying the audience enables companies to craft messaging that resonates with potential customers and positions them as experts in the field. Companies should also take competitor analysis into account when formulating their strategy; understanding where competitors are investing resources can help inform decisions about which channels may be best for reaching customers.
Developing an integrated approach incorporating digital marketing tactics like SEO, email campaigns, content creation, and social media outreach will ensure businesses reach more people than ever before. Such an approach allows for targeting highly-specific audiences using different online platforms and tools that offer great value at low costs compared to traditional methods such as print ads or radio spots. Understanding how these elements work together provides valuable insight into how to make each channel most effective while increasing brand awareness and driving conversions from leads to sales. Transitioning seamlessly into optimization of website search engines can then nurture relationships between brands and customers through increased visibility across multiple channels.
Search Engine Optimization For Your Website
Optimizing a website for search engines is an increasingly important part of growing any business, especially in the carpet cleaning industry. To get found by potential customers, it's essential to understand how SEO works and what changes can be made to increase visibility on platforms like Google. Here are some key elements that should be included in any successful SEO strategy:
1) Keyword research: identifying relevant phrases that people use when searching online will help inform content creation and other optimization techniques;
2) Metadata: Every page needs tags, titles, descriptions, and URLs, which should include keywords whenever possible;
3) Link building: Quality links from external websites can have a huge impact on search engine rankings;
4) Mobile optimization: It's critical to ensure your site looks great across all devices if you want maximum visibility.
These strategies, such as keyword research and link building, must become second nature if businesses want their websites to generate leads. Being aware of current trends in the ever-changing landscape of SEO will also give companies an edge over competitors who may not be optimizing their pages correctly. With the right tools and knowledge, organizations can gain greater traction with potential customers looking for services related to carpet cleaning.
Crafting High-Quality Content For SEO
Quality content is the foundation of success when it comes to search engine optimization (SEO). As the old adage goes, "content is king," and crafting high-quality content for carpet cleaning SEO endeavors are no exception. It requires a thoughtful approach that considers both user intent and potential keyword phrases used in searches related to your services. Quality content should be well-written, informative, and engaging, ensuring an enjoyable experience for those who read it.
To create effective content for carpet cleaning SEO, one must first have knowledge about the industry and its nuances. This includes understanding what type of information customers are likely searching for on Google or other search engines and how they may phrase their queries. The more specific you can be when targeting keywords while writing, the better chance you will have at optimizing your website's visibility among search results. Additionally, you need to consider if there are any particular competitors ranking higher than you in the SERPs; exploring their websites could give insight into which words they use most often, which may help inform your own carpet cleaning SEO efforts.
Writing quality content also involves making sure all copy sounds natural within each sentence and flows easily between paragraphs; this helps maintain reader engagement as they progress through your page or article. Regardless of the topic at hand, ethical practices should always be followed throughout this process, such as avoiding plagiarism or spinning existing text from other sources without giving proper credit where credit is due. When done correctly, creating great content provides readers with valuable insights while helping boost your website's presence on SERPs organically over time. With these tips in mind, utilizing social media to further optimize visibility can become even easier by expanding reach beyond organic searches alone.
Utilizing Social Media to Boost Your SEO
In recent years, the utilization of social media has become an increasingly popular method for optimizing search engine visibility (SEO) and boosting online traffic. Employing a strategic approach towards managing accounts on various platforms can create tremendous opportunities to gain attention from potential customers, as well as aid in climbing up the Google rankings. This is especially relevant when it comes to carpet cleaning SEO, where leveraging existing networks could be incredibly beneficial.
The power of social media should not be underestimated; through carefully crafting content that resonates with followers and engaging with them over time, carpet cleaners are able to build trust within their respective communities. By providing useful information and responding promptly to customer inquiries, businesses achieve maximum gains in terms of brand awareness and website visits. Furthermore, using targeted advertising campaigns allows companies to target certain demographics more effectively than other marketing tools currently available.
When implemented correctly, social media offers versatile solutions for promoting business objectives related to carpet cleaning SEO without having extensive technical knowledge or resources at their disposal. By taking advantage of these tactics while staying true to their core values and mission statements, businesses can enhance their overall digital presence by leaps and bounds. As such, transitioning into further steps such as gaining quality backlinks will add another layer of value, which can lead to even greater success down the line.
Gaining Quality Backlinks to Improve Your Carpet Cleaning SEO
Gaining quality backlinks is an essential part of improving your carpet cleaning SEO. Relevant, authoritative websites linking to yours can increase the visibility and credibility of your website in Google search results. Inbound links from high-quality sites are invaluable because they demonstrate the relevance of your content and show that it has been cited by other trusted sources.
There are various strategies for gaining quality backlinks, such as guest blogging on reputable websites or writing informative articles with a link to your site at the end. You could also develop relationships with industry influence's who may be willing to feature you on their blog or podcast. Additionally, submitting press releases about relevant topics related to your business can help earn valuable media coverage—and potentially some great backlinks!
TIP: Make sure that all external links point to pages on your website that have lots of information; this will keep visitors engaged longer and give them more value when they click through from other sites. Avoid linking too many times to the same page, however, as this could appear spammy and hurt SEO rankings rather than improve them. Finally, measuring the effectiveness of your carpet cleaning SEO is key to ensuring that any time spent developing backlinks yields the desired outcomes.
Assessing the Efficiency of Your Carpet Cleaning Seo
The effectiveness of carpet cleaning SEO must be measured in order to ensure its success. An effective measurement process involves analysing relevant factors such as website traffic, conversions, and targeted keyword rankings. This can help identify areas where improvements could be made and what strategies are working well. It is also important to track results over time since trends may change quickly due to various external factors. By keeping an eye on these metrics, businesses will have a better understanding of their efforts' impact on search engine optimization outcomes.
Aside from tracking key performance indicators, it is essential for companies to understand how different aspects of their campaigns interact with one another. For instance, if certain tactics are not producing the desired results, other methods should be explored to see if they yield better results or increase overall efficiency. Additionally, looking at data from multiple sources allows for more comprehensive insights into the campaign's effectiveness. Companies that want to make sure their SEO efforts are successful need to measure them regularly and adjust accordingly when needed.
In today's competitive climate, many organisations turn to SEO agencies to provide specialised services and assistance with optimising their online presence. Working with experts in this field can give companies access to valuable knowledge and expertise that helps them get ahead in terms of visibility on search engines. Through the use of advanced techniques and strategies tailored specifically for each business' needs, experienced professionals can leverage the latest technologies available in order to maximise return-on-investment (ROI) for every dollar spent on marketing initiatives related to carpet cleaning SEO projects.
Working With An SEO Agency To Improve Carpet Cleaning SEO
As the old adage goes, "time is money," and this rings true for those seeking to improve their carpet cleaning SEO. Working with an experienced SEO agency can help businesses reach a higher level of success within the online market by providing expertise in areas such as keyword research, content creation, link building, and more. An effective partnership between business owners and the right SEO team will ensure that the latest industry trends are taken into account when formulating strategies to boost search engine rankings.
For those who wish to make use of an SEO agency's services, it is essential to find one that understands the particular needs of your business. A well-informed company should be able to provide detailed insights on how they plan to bring about successful results while also working closely alongside you to develop tactics tailored specifically towards achieving your goals. Additionally, they should be able to give regular updates on their progress, along with clear explanations of each step being undertaken, so that you have complete control over your efforts.
By utilizing an expert partner at every stage of implementation, businesses can rest assured knowing that all aspects related to their carpet cleaning SEO initiatives are attended to, ensuring maximum benefit from these investments in terms of both time and cost efficiency. Staying up to date with best practices then becomes much easier since specialize knowledge is readily available through reliable sources, allowing companies greater freedom when deciding what steps would be most suitable for them without having to worry too much about making mistakes or leaving out important considerations.
Keeping Current With Carpet Cleaning SEO Best Practices
Staying up-to-date with carpet cleaning SEO best practices are essential for a successful strategy. It allows businesses to keep pace with the ever-evolving search engine algorithms, ensuring that their content remains relevant and visible in SERPs. To do this, companies must not only understand the fundamentals of SEO but also stay abreast of changes as they happen. This means regularly monitoring blogs, forums, and other resources to find out about new developments or updates from Google and other major search engines.
Furthermore, it is important to take advantage of any tools available that can help manage your site's performance on search engine results pages. Such tools can provide insights into keyword rankings and track website traffic over time; this information may be used to identify areas where improvements need to be made and inform decisions regarding future campaigns. Additionally, using analytics software such as Google Analytics can give an even more comprehensive view into how effective SEO efforts are performing by providing real-time data on page views, visitors' demographics, bounce rates, etc. Regularly experimenting with different strategies will allow businesses to optimize their approach until they achieve the desired outcomes.
Undoubtedly, staying informed about the latest trends and developments in SEO is necessary for success in today's competitive online environment. As well as keeping an eye on industry news sources, having access to experienced professionals who can advise you when needed will ensure your business gets the most out of its pursuit of better ranking positions and increased visibility for its content. With strategic planning and careful execution, carpet cleaners have every opportunity to make sure their sites appear prominently in organic searches—provided they know what steps should be taken.
Common SEO Errors to Avoid
Recent research shows that businesses that invested in carpet cleaning SEO, or search engine optimization, have seen an average 25% increase in web traffic and 15% growth in revenue. Carpet cleaning is a complex process that requires knowledge and expertise. There are several common mistakes to avoid with carpet cleaning SEO if businesses want to maximize their ROI and optimize their website performance.
The first mistake businesses make when utilizing carpet cleaning SEO involves not understanding the value of keywords. Keywords are essential tools for driving organic search engine results; however, many websites fail to identify relevant words and phrases for target audiences. It's important for business owners to conduct keyword research, understand their audience's behavior, and create content based on the most popular terms used by customers online. Additionally, businesses should consider investing money in paid search campaigns as part of their overall carpet cleaning SEO strategy.
Another frequent misstep related to carpet cleaning SEO is failing to update existing content regularly. Fresh content can help drive more organic traffic from search engines because it signals relevancy, which is measured through metrics such as time-on-page views and click-through rates. Furthermore, outdated information will lead potential customers away from a brand's website, so updating content with current industry trends helps maintain customer engagement levels while providing valuable information about products or services offered by the company. Businesses must also ensure they use appropriate titles and headings within each page of their website since these elements provide further indication of relevance to searchers looking for particular answers online.
These mistakes may present challenges, but by taking proactive steps, companies can leverage carpet cleaning SEO for greater visibility online and improved success offline.
Using SEO To Grow Your Business
Carpet cleaning SEO presents a powerful opportunity for businesses to succeed. By leveraging the right strategies, any business can gain a competitive edge and reach greater heights of success than previously imagined. With this in mind, it is important to understand how best to use carpet cleaning SEO in order to realize its full potential.
Like navigating an uncharted course, using carpet cleaning SEO effectively requires careful consideration of one's destination and being mindful of the rocky shoals that could lead astray. To illustrate this point, consider the saying "a stitch in time saves nine": taking the necessary steps now pays off exponentially later down the line. Taking shortcuts with carpet cleaning SEO may seem appealing at first glance, but in reality, they are more likely to cause headaches than to provide solutions.
Rather than making costly mistakes, businesses should focus on creating long-term plans while keeping their end goals in sight. This means understanding the fundamentals of what works and building solid foundations from there. From keyword research to content optimization, companies need to ensure that every component of their strategy falls into place like pieces of a puzzle, each contributing towards desired results and eventual success.
With diligent effort and perseverance, any company can unlock great rewards by harnessing the power of carpet cleaning SEO for their own benefit. It is all about having clear objectives and putting together a plan based on sound principles—something that will be sure to bring lasting success to your business endeavors.
Frequently Asked Questions
How Much Does Cleaning SEO Cost?
Carpet cleaning SEO can provide powerful marketing results for businesses in the carpet industry. However, a common question many entrepreneurs ask is, "How much does carpet cleaning SEO cost?" In order to answer this query, it is necessary to understand the various components of such services and their associated expenses.
To begin with, when assessing what your business might spend on carpet cleaning SEO, one must consider different factors like the size of the company, its current search engine rankings, as well as any additional services that may be needed. Additionally, there are other elements that play a role in determining costs, such as content creation or optimization of existing material, plus time spent by professionals setting up campaigns. Here are four main points to keep in mind:
The amount charged will depend upon how extensive the project needs to be; for example, if you want to increase visibility across multiple platforms, then a larger budget would be required than simply focusing on organic listings.
It's important to choose an experienced agency that understands both the technical side and market trends so that they can deliver effective strategies tailored specifically for your business goals.
Tools used during implementation, from keyword research tools to analytics packages that track success metrics over time, should all be factored into pricing. These add extra expense but help ensure a good ROI down the road.
Finally, depending on whether you manage SEO tasks internally or outsource them externally could make a difference too; some firms offer fixed-price plans while others offer hourly rates.
Therefore, understanding each piece of the puzzle allows companies to accurately estimate what their expenditure will look like for carpet cleaning SEO projects before committing resources and money towards achieving desired outcomes. Knowing specifics about the costs involved in running successful campaigns gives you the confidence to make informed decisions based on data-driven insights and sound judgment.
How Long Does Carpet Cleaning SEO Take to Produce Results?
Carpet cleaning SEO is a powerful marketing tool that can help boost the visibility of businesses in search engine results. It involves optimizing website content and other elements, such as links, to improve its ranking on SERPs. The goal is to drive more organic traffic to the business' site, which could lead to an increase in sales or leads. But how long does it take for these SEO efforts to bear fruit?
The answer depends on several factors, including the size of the company's website and the level of competition for certain keywords. For example, if you are competing with larger companies for popular keywords, your SEO may take longer to produce noticeable results than if you were targeting less competitive terms. Additionally, different industries have varying levels of competitiveness when it comes to SEO; some sites may see positive changes within days, while others need weeks or months before they start seeing tangible benefits from their optimization efforts.
It's important that businesses understand this reality when investing in carpet cleaning SEO services so they can properly plan their budgets and allocate resources accordingly. An experienced agency will be able to provide realistic timelines based on keyword difficulty and the industry's current trends. That said, patience is essential since any successful SEO campaign requires time and effort in order for businesses to reap rewards down the line.
What Are the Most Popular Carpet Cleaning Keywords?
Carpet cleaning SEO is an important part of marketing for businesses in this industry. According to a recent survey conducted by an independent source, 87% of carpet cleaners have indicated that they use some form of search engine optimization (SEO) as part of their overall digital strategy. This statistic clearly demonstrates how essential it is for these businesses to ensure that their website and content are highly visible across all major search engines.
So what are the most popular keywords for carpet cleaning? A quick review of keyword research tools reveals that "carpet cleaning near keyword research tools reveals that "carpet cleaning near me," "professional carpet cleaner," and "cost of professional carpet cleaning" are among the top-ranking terms used by searchers when looking for such services online. These show just how competitive this market can be and why it's vital to make sure your site appears high up on those lists whenever someone searches using any one of them. It also goes without saying that other key phrases related to carpets should not be overlooked either, as they could prove beneficial in driving more organic traffic towards your business.
By optimizing your web pages around relevant topics like these, you will help improve your visibility within the SERPs (Search Engine Results Pages). Additionally, with strong content creation strategies in place, including regularly publishing valuable resources about topics related to carpets and rugs, you can give yourself a further edge over competitors who may not be investing time into creating such media assets. Ultimately, taking steps like this will help ensure you gain traction from potential customers searching for reliable carpet cleaning services—no matter which device or platform they're coming from.
How Can I Evaluate the Effectiveness of My Carpet Cleaning SEO Campaign?
Carpet cleaning SEO is an important part of any carpet care business. Knowing how to measure the success of these efforts can be a difficult task, but it should not be overlooked. There are several ways to assess the effectiveness of your SEO strategies that can help you ensure they are having a positive impact on your bottom line.
To begin with, tracking website visits and conversions can provide valuable insight into how successful your optimization efforts have been. By monitoring the number of visitors who come to your site through organic search results, as well as those who convert into paying customers or take some desired action, such as signing up for a newsletter or submitting contact information, you will gain an understanding of whether or not users find what they need when visiting your page. Additionally, using analytic tools such as Google Analytics can give you even more detailed insights about where people are coming from and what pages they visit while browsing your site.
Furthermore, there are three specific metrics that can be used to gauge the success of carpet cleaning SEO: keyword rankings, backlinks, and time-on-site statistics. Keyword ranking measures which keywords generate the most traffic for each page in comparison with other relevant websites; backlinks refer to links from external sites pointing back to yours; and finally, time-on-site tells us how long users stay on our page before leaving. Taking advantage of this data will enable businesses to determine which areas require further attention in order to improve their overall online visibility and performance.
Therefore, measuring the success of a company's carpet cleaning SEO efforts requires analysis at multiple levels—website visits and conversions, keyword rankings, backlinks, and time-on-site statistics—all working together towards improving the user experience and ultimately driving sales growth. With access to accurate analytics data and the proper interpretation thereof, companies can make informed decisions regarding their marketing campaigns in order to remain competitive within their industry.
What Resources Are Available to Assist With Carpet Cleaning SEO?
Carpet cleaning SEO can be a daunting task, but the right tools make it easier. Just like any industry professional needs the right tools to do their job well, those in carpet cleaning need the same level of support when they're optimizing their website for search engine rankings. Having access to specialize software that optimizes websites and tracks progress is essential for success in this area.
The first step to finding the right tool set is getting an understanding of what you want from your carpet cleaning SEO efforts. A good place to start is by asking yourself questions about how you plan to measure success. Are you looking for increased web traffic? improved click-through rates? Higher conversion rates? Once you have an idea of which metrics are most important, you can begin researching which tools will give you these results.
Data-driven metrics provide valuable insights into how effectively your marketing strategies are working. For example, evaluating keyword performance with Google Analytics gives powerful insight on whether or not changes made are having positive effects on organic search engine ranking positions. It also enables users to monitor competitor performance, allowing businesses to stay ahead of the competition.Additionally, there are numerous other software options available, such as Search Engine Optimization (SEO) Auditing Tools and Webmaster Tools, that offer helpful features such as identifying broken links and analyzing page loading speed.
By using these types of programs, business owners can save time and money while ensuring they're making informed decisions based on data rather than guesswork alone. With so many great resources out there today, finding the best ones may seem overwhelming at first, but investing in quality SEO tools pays off long-term in terms of improving visibility online and generating more leads through higher search engine rankings over time.
Conclusion
The success of carpet cleaning SEO depends on the keywords used and how they are optimized. It is an investment that can pay off with increased visibility in search results, but it can take some time to see results. To measure the success of a business's efforts, tools such as Google Analytics provide useful insights into website traffic and other metrics. When choosing which keywords to target, understanding what potential customers are searching for will help create effective campaigns.
To maximize the impact of carpet cleaning SEO, businesses need to stay up-to-date with industry trends and changes in algorithms. This will ensure their content remains relevant and is appreciated by searchers looking for answers or solutions related to this service. Furthermore, creating quality content featuring well-researched keywords should be prioritized over quantity; like a finely woven rug, strong foundations must be laid before any further embellishments may occur.
Overall, there are many considerations when embarking on a carpet cleaning SEO campaign. With careful planning and regular maintenance, companies can use this tool effectively to attract more visitors to their websites—rising above competitors who have not taken similar steps like birds taking flight from a tree branch—while also gaining valuable insights into consumer behaviour patterns along the way.
If you're a plumber looking to make it big in the plumbing segment, it is high time you considered getting a website if you don't have one already. However, contrary to popular notion, your job doesn't just end after you get the website. Instead, it begins. Once you have the right website you would then need experienced plumber SEO professionals to optimize your website. Why? Because until you do this, your website won't show up when people look up plumbers in your area. SEO professionals don't just optimize your website to show up in top search results, but they also ensure that your website consistently ranks high throughout all odds. Additionally, they optimize your website content with just the right keywords so that you stay way ahead of all competition. Having said that, how do you even start using SEO for your plumbing business? What are the things you need to keep in mind? What caveats should you consider? We will find out all that in the following few sections.
SEO Basics For A Plumbing Company
If you are a plumbing company that is looking to maximize business returns by investing in quality SEO, you are on the right page. SEO, an acronym for Search Engine Optimization is tailored to improve the search results of your website. With the right SEO for your plumbing business, your ratings will increase, and your website name will show up in the top search results. However, it is crucial to understand the basics before you take a major move with an SEO company, and in this section, we will talk all about that. As you read through the following sections, you will learn more about the different types of SEO that until now you might have stumbled upon but do not fully understand. This is the guide to SEO for plumbers.
On-Page SEO For Plumbers
If you are looking for a basic and simple way to optimize your website according to leading search engines, you choose on-page SEO. The idea is very simple, and it typically involves a range of meta descriptions, URL and title tags, and keywords among others. As a plumbing business owner who also owns a website you might have come across these terms, but don't exactly know how to incorporate them. And that is exactly what an On-page SEO business will do for you.
Off-Page SEO
In case you already have on-page SEO it is an excellent idea. However, SEO alone isn't helpful enough when it comes to fixing your website with Google search results. Why? Because the keywords for on-page SEO are fairly generic. This is where off-page SEO comes to play. This is not just an excellent way to establish your brand as a reliable one, but it also helps spike up your google listing. This form of SEO includes multiple components including mentions of brands that link to external pages, inbound website links from outbound sites, common business citations also known as the NAP citation, solid social media presence with quality business profiles across Facebook, LinkedIn, Instagram, Twitter, and TikTok among others.
Local SEO For "Plumber Near Me" Searches
When it comes to local or geographical SEO, plumbing services will be at the top of your list. In case you do not already know, Google integrates location data in the form of geo-coordinates. All search algorithms of Google carry these coordinates. But what do they do in the first place? What do they do when someone searches "Plumber SEO"? Well, typically, they will show you a range of results depending on the location of the person searching. Thanks to smartphones and easy access to Wi-Fi, people now look up online businesses more seamlessly and quickly. Because Local SEO helps you reach out to your target audience it is worth considering this option especially if you are looking to work with local clients. Typically, local SEO may be categorized into multiple components including (but not limited to) Google Maps, your business profile on Google and other search engines like Yahoo, Microsoft, and Yelp, solid and consistent digital reputation, and a screenshot of the local pack.
Technical SEO
Finally, let us focus on one of the most overlooked and yet crucial components of SEO when it comes to plumbing businesses. Most people are still unaware of technical SEO because the majority of the work happens backend. That means you can only understand the specifics of this SEO if you are familiar with website designing and some form of coding. A regular user cannot identify technical refinements as easily as web development professionals.
As with everything else, technical SEO comprises multiple components like HTML and CSS coding, search engine optimization for mobile and smartphones, download and loading speed of the website, final look, and feel of the website, and finally the schema markup.
Why You Should Utilize Plumbing SEO As Your Go-To Marketing Tool
Now that you are familiar with the different types of SEO, you are probably wondering what specific reasons attribute to you choosing SEO services for your plumbing business. In this section, we will take a quick sneak peek.
Better Market Expansion
When you choose the right SEO for your plumbing website, you will receive higher local rankings that convert to legitimate traffic. With more traffic, you also get the added option of generating maximum leads that will ultimately translate to sales.
Economies Of Scale
If your website is optimized by professional SEO experts, it is likely to come up with the most organic results. Thanks to this, you wouldn't have to manually look up leads or spend a huge chunk on advertisements either. SEO is an excellent way to establish brand awareness that will naturally generate a target audience for your plumbing business.
Experience And Reputation
At the end of the day, more people are likely to use your services if they feel your website is easy to navigate and your services are easy to book. That is why you need the right SEO that will ensure your website looks amazing, is easily navigable, and loads super-fast. This will leave an excellent user experience for the end user and your reliability as a plumbing business will shoot up.
Improving Your Plumbing Website With Search Engine Optimization
You need the right SEO to show up on the first page of leading search engines. So, if you think you are falling short on digitization and SEO efforts, here are some nuggets of wisdom to help you start differently.
Use Correct Keywords And Not Jargon
For the uninitiated, keywords are a set of words those potential customers use when it comes to looking for the right plumber. This can include multiple plumbing terms with your location or just direct names of companies. The right SEO experts will generate high-quality keywords that help you stay atop search results.
Improve The Website Loading Time
Let's face it: nobody likes a website that loads slowly, and your customers are no exception. That is why you need the right SEO professionals to ensure that your website is quick enough for users so that they stay on your site for a while. Choose the right SEO professional and get them to ensure that your site speed is a maximum of three seconds.
Landing Pages
Another excellent way to boost site traffic and improve SEO is by creating multiple landing pages for the different areas of your business. Because you are a plumbing business, your landing pages can be like bathroom sink repair, drain servicing, and leak servicing among others. The right SEO professional will research the right keywords and integrate them into your website. The benefit? Your website will come up every time someone looks up that specific service. Make sure the landing pages have quality content with a detailed description of how the service works including relevant keywords.
Go Organic
Any SEO expert will tell you that organic results are unbeatable, and they are not wrong. SEO experts help generate organic leads by coming up with appropriate title tags and meta descriptions for each landing page on your website. Next, they work on a clean URL that gives a clear idea of what your website does. Third, you have a header with targeted keywords and quality content geared toward your target audience.
Final Thoughts On SEO For Plumbers
Now that you know all about plumber SEO and its perks, think no further and get the right SEO service for your plumbing business. With the best SEO services in place, your plumbing services would be the talk of the town and every time people look up plumbing services in your area, your company will show up as one of the top search results. You can also go above the mile by choosing social media optimization, where a team from the SEO company will manage your website landing pages and answer chat questions on your Google or Yelp business listing. When you outsource the SEO requirements of your business to the right digital marketing agency, you do not have to fret about staying ahead of the competition. Instead, you can focus on your job and expect more leads in no time. Quality SEO services do not disappoint and when you have a team of qualified experts handling your digital marketing requirements- you just need to do your job, establish connections, and maintain the ones you already have.
Google is a word known to all. It is a common search engine all around the globe. People from different geographic locations use it in different languages and for different uses. It is one of the most powerful tools when it comes to the virtual world.
To use Google, your physical location doesn't matter; all you need is an internet connection with your laptop or phone, and that's it. Google is a search engine where people look for information using relevant keywords.
Nowadays, business owners also use Google Ads to promote their business and also take help to promote their businesses through smart campaigns. Therefore, the advertising campaign run on Google is sure to reach the target audience and a wider number of people.
What is Google ADS?
Google is a very common word in today's world, but what is Google Ads or Google AdWords? Is it an extension of Google or a new app? Don't worry, and we will answer all your questions regarding Google Ads, previously known as Google AdWords.
Google Ads is an online advertising campaign launched by Google. It is where the business owners can put their small ads in order to reach potential customers. The advertisers are interested in using this service bid to get their ads placed on the Google search engine and non-search apps like mobile devices and computers while using the internet.
This service is offered on a PPC (pay-per-click) basis. PPC Advertising is when you pay for each visit to your website through the ad. The advertising service uses a lot of things to attract customers to their client's website. For example, keywords are used to increase search volume. Therefore, it is common to use relevant keywords that are attractive to the target audience.
What Should be your Budget, and What Are The Types of Budgets?
The service provided is based on different budget strategies.
Monthly Budget: this is a decided amount. A contract states how much the company will pay Google monthly to make them display the clients' ads.
Daily Budget: this is rare, but some businesses pay daily. A daily budget is helpful when the client doesn't want to avail of the Google Ads service for a long time; for example, it is for a particular season, etc.
Pay-per-click: this is also a common way. The client wants to pay for the search volume of their website. So they pay for the smart campaign according to the clicks per day. This makes them sure about the worth of the digital marketing campaign and its return on investment. Depending on how many prospective customers reach their website by seeing the ad on Google ads is what makes the return on investment.
To get Google Ads for a small business, the budget depends on the business and its type. For example, if the business owner wants to put the ads for a few months, the cost would be more than if the ad would have been for a few days. Therefore, the business owner should first make a plan with the agency. Then, if they feel that this step will help the business, they should take it further.
Track Your Result with Google Analytics
If you decide as a business owner to use Google Ads to serve your business, you should also keep a close check on it. It is advised not to let things go unnoticed as it can start giving negative ROI very soon.
Keeping track is easy if you understand the Google ads better; there are Google Ads APIs that are more interactive. These APIs let the business owner or the developers interact with the program's interface. This is helpful for larger accounts, but it is also helpful for small business owners as the better you understand the advertising algorithms, the better results you will attain.
There are different services provided along with Google Adwords; one of them is Google Analytics. This helps you give an in-depth analysis of how well the ads, keywords, searches, etc., are helping your business.
For better understanding and greater results, it is advised to hire a PPC consultant. But, you might be wondering, how is it cost-effective for your small business? Let's examine what they might bring to your business.
PPC consultants are difficult to find and are highly in demand due to the ever-increasing ads and searches. PPC consultants are professionals who manage internet pay-per-click advertising campaigns. This includes; strategy, design, implementation, and analysis of the advertising campaign's performance.
Furthermore, the PPC consultant would do all the work:
Keyword Search: they would search how many people are attracted to your website through the keywords.
Trend Watching: they would see if your marketing strategy matches that of the market or are you falling behind. SEO trends and ever-changing algorithms can be a challenge to follow, so a PPC consultant does it for you.
Landing Page: landing pages are the first interaction between your business and visitors. So, keeping the landing page interactive is essential. PPC consultant will review your landing page and make sure it helps retain potential customers.
Conversion tracking is a similar job. This process involves tracking the mobile data by a mobile measurement partner. The data can also be tracked from any other device like a laptop, computer, etc. The tracking will indicate how the potential customer has interacted with your Google Ad. They track the mapped data point through an app. This enables them to understand better the usefulness of the ad for the person who watched or interacted with your Ad and how much benefit the business is getting.
How Can Your Small Business Benefit From Google AdWords?
It is no secret that small businesses struggle to survive in the competitive corporate world. The virtual world is both a foe and a friend. The larger sharks in the ocean, like Walmart, Amazon, etc., are a true threat to the survival of small businesses. This often concerns small business owners.
To survive, various strategies are used and applied by small business owners. As a result, they have to play many roles to save costs and meet both ends. In such a situation, finding a low-cost digital marketing agency and letting them help grow the business is indeed a blessing. Google Ads are just that.
There are ways on the internet that can help you reach customers through advertising platforms and lower your average cost. Search engine optimization is one of the ways to make your ads more prominent to the target audience.
When starting a business, you know you need to give it time; the same is the case with Google Ads. Once you post your ads on Google Ads, you need to keep tracking them. If you just leave it after putting up the ad, you can be sure to let your advertising budget go down the drain instead of yielding results.
Small businesses are usually low on budget and striving to make ends meet. So, will it be beneficial for them to use Google Ads to promote their businesses? The answer is, Yes. So, let's see how Google Ads can help small businesses.
Budget-Friendly: with Google Ads, you can start advertising with any budget. They give a lot of options. Even with conversion rates, if you are from any other part of the world, you can find a budget that suits your pocket.
Follow It: after you appoint Google Ads to make promotions for your business have a greater reach, you can follow it. Google Analytics is the way to do it. You should always keep track of the Google ads to understand them better and see how it is benefiting your business.
Location is Accessible: Google Ads uses Google Maps as well. This makes it easier for the clients to reach your location if they are interested in purchasing from you.
Keyword Search: if a particular potential customer is searching for a certain thing and uses a certain keyword of tail keywords to search for it on a search engine, the search engine will direct that customer to your business if it is related to the search. There can be thousands of keywords that relate to your type of business. So, this makes the customer base even wider for you if you appoint Google Ads to promote your business.
Online Presence: it makes people know about your business. The online presence of your business may make it easier for an average customer to reach you, which otherwise wouldn't be possible for them.
More Reach is Ultimately More Money: if your customer base increases, your sales will increase, getting you more profit.
A digital marketing agency is one way to make prominent Google ads as per your marketing budget. A small business will have a relatively smaller marketing budget, so to get your marketing strategy easy enough to reach the relevant customers, you also need to put in effort and money.
Some valuable customers are online at different hours of the day, so to reach them, your ad should be showing up frequently when they are on the internet. For different types of businesses, there are different strategies. Now, it depends on your PPC campaigns to match the search network of an average customer.
Another important thing is to keep your advertising goals clear. You should be able to tell in numbers how much profit or how many customers you are targeting to get through this advertising campaign.
Advertising technology used in these Google Ads makes it possible for the Ads to make the advertising efforts worthwhile. Ad Tech manages ads across channels, including videos, display, search, etc. Moreover, it manages the ads as per the target, bid, optimization of digital marketing, etc.
Types of Advertising:
The types of advertising are basic. These types have evolved with technology. Let's get to know each type.
Display Advertising: these are also known as Banner advertising. You can see them while on the road. They can be in different languages, including sign language. This is also included in Social media advertising.
Mobile Advertising: it is advertising made specifically for mobile devices. They are made to fit the screen, and their timing is also suitable for the viewer. These can be video-based, a picture, a banner, or just a message, etc.
Video Advertising: these are super attractive and are the most common now. We have them everywhere, in our handheld devices, televisions, computers, and even electronic signboards. Google Ads uses them very often.
Native Advertising: these are mature ads that are non-disruptive. Ads like blogs, videos, photos, etc., are slipped between the content and related to the content the consumer is already indulged in. They match the style of the content and go with the flow.
Most of the forums use all these types integrated as one. This helps with greater reach and attraction.
Though Ads are a great way to reach a wider range of customers relatively easily, they have a disadvantage. It would help if you were sure that the ads do not invite a greater number of non-potential customers as this will increase your cost without getting any benefits.
Google Ads and other forms of digital advertising are a strong component of the services offered by Osborne Digital Marketing. To get the best and yield the most effective results, you should rely only on the best service providers.
Final Word
Google Ads are a benefit for all types of business owners and customers. There are many options available for the customers to choose from, and there are budget-friendly strategies for businesses.
Though the business owner should be careful that they are getting the most out of the strategies, the ads are not attracting many non-potential customers. This can be harmful as it would increase traffic on the website but not give any financial gain. So, keep a good eye on the Google strategies and gain the maximum benefit your business can.
Today's world has more things happening online than in real life. Ranging from company performance to social life presence, all of it is present to a wider reach of people online. Understanding the importance of social media, many companies have made it a part of their communication channels.
These days a kid who is not even his or her teenager may be easily found having a social media presence, so come to think of it, it is important for adults. In addition, social media has increased the connectivity of people from all around the world.
Social Media Platforms
A thing as common as social media networks is well-known to the people who have access to the internet in any part of the globe. This access has made it possible for people to connect and interact. It has been a blessing in disguise to the core.
From individuals to any official company, it is seen that social media is unavoidable. So what is social media, and what are the social media platforms that are easily accessible?
Social media is an interactive technology used through digital platforms. You share and develop connections, ideas, interests, and other forms of expression through the virtual communities.
Types of Social Media Networks:
There are 3 most common social media networks. But many other smaller platforms are growing rapidly. So we are stating a few that are commonly known to most people :
Facebook: Facebook is an informal platform. This platform is used to make friends and interact with strangers and people that might already be known to you. Over the years, Facebook has grown massively, and now there are many more services provided through it other than only social connections. Things like; finding a job, finding a partner, getting solutions to your problems, etc., all can happen here. It is the most common and easily accessible social media platform. In this network, the connections you make are tagged as friends; you can comment on their posts, share posts with them, and even chat or call them through the Facebook extension called Messenger.
Instagram: Instagram is also an informal platform used for social connectivity. Many people have become celebrities and even millionaires through this platform. So, if used in the right manner and with the right tactics, one can grow through it. Instagram uses posts and pictures as a source of communication. There are followers on Instagram instead of friends. There are several followers, and if you exceed that number, you will start earning through the platform. You can use messages on DM (Direct Message) to chat with your followers or with the people you are following.
Twitter: This is a platform that is most famous among celebrities and politicians worldwide. Many rumors and hot gossip come from here. Twitter is also known as the most common online platform for social news and posts by hotshots.
YouTube: This is a less interactive but very common social media platform. Social networks like YouTube have videos ranging from cooking shows to high-tech-related programs. These videos can be as long as more than a few hours and as short as 10 seconds. There are informative videos and useless ones that depend on what kind of video or genre you prefer to watch. There is a lot of local content from wherever you belong and content from other parts of the world. Social media tools are known for earning handsome amounts by putting in less effort, and YouTube is one such tool.
TikTok: Another tool that uses videos as a form of entertainment.
Netflix: This tool has videos, shows, and movies uploaded daily. This is for the sole purpose of entertainment.
LinkedIn: LinkedIn is fantastic social media tool for most business owners. LinkedIn benefits your business in several ways, one you get to keep in contact with current and past clients. Secondly, most professionals post on LinkedIn about what is happening in their industry. That way you can use LinkedIn marketing strategy for small business.
Most of the stated and other social media sites require making social media profiles. These profiles serve as the home page for the user. These days even company events are posted on social media accounts, making social networks inevitable. Social media users understand the importance of social connectivity through these social networks. It is no secret, how these social media sites have helped grow people as individuals as well as an organization as a whole.
There are many more social media networks emerging and growing with each passing day. There are certain social media policies that work for the safety of the user, but still, there are potential threats. These concerns are for individuals and companies alike.
Benefits Of Social Media In The Corporate World
Apart from individual life, social media sites also affect corporate company activities. Activities ranging from employee engagement to company values everything is being impacted. It is seen over time that employee morale is seen to be higher when given the freedom to access social networks.
The impacts of social media usage vary from company to company. Some companies and their employees rely on social media tools to achieve the company goals, while some can use it as a marketing tool. After knowing this, one might want to ask, how do social media platforms benefit the company or the corporate world?
Communication Channels: the company can use any social media network to communicate with its company. Mostly, companies use Gmail or Emails to communicate with their employees. This makes the communication fast, and there is less chance of the message being missed or misunderstood as there is proof that everyone got the same message at the same time, through the same portal. Some companies use internal social media to communicate with the directory of people employed in their organization, channel options like ESN have made it easier for organization and employee interaction.
Blog Posts: companies use social media tools to engage with their employees. They can publish a weekly blog or make an entertainment blog to keep the employees entertained. This increases employee engagement as they can comment on the blog or, better even, write blogs for the company website to publish, and they get recognition for their extra efforts.
Company to Company contact: it is easier for competitors to keep in touch through social media tools. Even suppliers, vendors, or business partners can stay in touch 24/7 through these channels.
Strengthens Business Social Life: employees feel motivated and encouraged when they can relate to their colleagues. It is also a great way to diminish jealousy among employees. Employee satisfaction increases when they have friends at the workplace and feel more confident and happy to come to the company to work.
Customer Representation: many companies use all forms of social media to engage with their customers. They use it for several purposes, including; as an online survey tool, customer interactions, customer service, customer support, etc. The companies also use the channels to perform better customer relationship management as it can be available 24/7, unlike physical CRM. Finally, companies also use the channels as a customer base to email them any deals or promotions or just as a networking tool with the customer.
Digital Workplace Platform: social media channels have been proven a blessing for companies, especially in times of pandemics. Most companies made sure they were present virtually to survive through the tough situation of pandemics when everything was online. As a greater impact of a pandemic, customers like purchasing online as it diminishes the hustle of taking out time and going to the brick and mortar store to make the purchase. The centralized platform of the digital workplace made it possible for employees to work through online channels and produce happier customers as things were made possible through the virtual world.
Employee Retention: social media tools have made it easier for employees to prefer a certain company over the other. The employees are a lot more informed about the working conditions and their rights varying from company to company.
Marketing Tool: organizations use social media channels as a marketing tool and networking tool. They use it to reach a greater number of people than is possible through print media, etc.
Advantage of Notification: it is a great benefit to the organization that the message conveyed through a social media network uses notifications. This makes it the least possible to be missed.
Personal Benefits to the Employees:
Engagement with other colleagues: employees find it easier to make friends and make personal networks.
Work-related Questions: a lot of the time, employees are shy to ask certain things face-to-face. Social media interaction makes it possible for the employees to communicate with the organization and clarify any work-related queries.
Employee Programs: dedicated employee advocacy program is a great way to know the right owned by the person as an employee of a certain type of firm, for example, a construction company. A few years ago employees were not knowledgeable about their rights according to the industries they were working for, now it is very easy.
Employee Collaboration: employees pool their ideas and share their experiences to achieve a certain target or a goal.
Competitive Advantage: employees enter into a healthy competition to achieve their goals faster than the others. This also improves the business's success as a whole.
Mental Breaks: the employees feel relaxed and fresh when they get the much-needed mental break by using the social networks at work.
Drawbacks of Social Media
With the evolution of technology, many changes have been witnessed over time, and the corporate world is no different. With changes come a lot of benefits for both parties and a lot of negative effects.
Having discussed various benefits to the organization of using social media on a corporate level, you might be wondering, are there any drawbacks?
Technical Risks: hacking is a common issue; it is a high alert for companies to keep their data and confidential information safe.
Less Productivity: it is seen that 70% of the companies have had to take disciplinary action against employees using social media platforms.
Irresponsible Posts: there are many times when employees post about their organizations in an inadequate manner leading to defamation of the organization. To avoid this, the organization and managers should maintain a good balance between work and social media access for the employees during working hours.
Wastage of Time: employees can use social media excessively. They can open channels hundreds of times to kill time and not pay attention to the work assigned to them. Employees can waste time on online chats, casual conversations, etc.
Does Social Media Affects the Job Performance of An Employee
The straight answer is, Yes! Social media does affect an employee's job performance, and this happens in various ways. There are ways that an employee can feel the positive impact of using social media and relate it to their work-life.
Blog Post Comments: being able to comment and interact on the social media blog posts by the organization gives the employee a sense of authority. They feel confident in working for the team and feel involved.
Accomplish Tasks: the employees get into the healthy competition by using social media channels and having channel options. They try to accomplish tasks and improve their working capabilities.
Leadership Skills: when an employee is aware that their work is being shared virtually, there is a great chance of significant improvement in their work. This also leads to having more polished skills like leadership skills.
To Relax or take a Break: a break is essential; social media can provide that for the mind. Taking out 5-10 minutes and browsing through social media can freshen up the employee.
Should the Employees be Given Social Media Access At Workplace
The answer is Yes! The employees should be given access to social media channels at the workplace. If social media is given access to the workplace for the employees, the right policies and measures should be taken by the managers and business owners. By doing this, the business can see more benefits.
Social media marketing can benefit your business success, and it can help your company gain popularity among other competitors, etc. However, social media channels need to be used correctly by employees as well as business owners.
To grow your business to a new height, Osborne Digital Marketing can help you develop a great marketing strategy according to your business type and industry. Now that you understand the importance of social media presence and usage using the right business strategies. Osborne DM is here to build applicable and success-guaranteed strategies for your business.
Final Word
The employees should be able to use all the social media channel options available during working hours. This will benefit the employee as well as the organization as a whole. But makes sure to put up the right boundaries and make sure everyone is introduced to those boundaries before they start using social media.
Given the circumstances the Covid-19 pandemic drowns the world in, people are desperate to create an impeccable online presence. Especially because they want to create inextinguishable business imprints in the e-markets.
To create a functional and lucrative website, people leverage various website hosting services. In 2019, the website hosting market size was estimated to be around $57.6 billion.
Now, with the speed the online industry is moving, it is forecasted that by 2027, the market will increase to an estimated value of $171.4 billion.
As easy and accessible as it is to create a catchy, user-friendly website, finding the right website hosting service can be bewildering simply because there are too many options.
From old-school yet popular servers like WordPress and Wix, people are starting to get intimated by cloud-based servers like Cloudways.
Website hosting is not as easy as it seems. Especially if you are unaware of what type of plan you should use. You may experience huge monetary and data loss with the wrong plan and hosting server.
To learn what plan you need and when is the right time to upgrade your website, stick with us until the end.
What Current Plan For Website Hosting Are You Using?
Different website hosting servers have different options and packages. There are basic plans that are often free, and then there are the premium packages with additional features and customization options that charge you a fee.
As a beginner, WordPress, Wix, Squarespace and similar options like Kinsta seem great, and they are. They are all well-integrated and excellently functional content delivery networks.
But, as technology advances and the internet is witnessing the biggest entrepreneurial paradigm online, the "need for speed" and other upgrade options with websites have become more pronounced.
If you have a website, you must be using any of the following types of website hosting:
Shared hosting:
It allows multiple people to use the same hosting server on a shared plan- and obviously, it is an economical option when you are just starting or do not need bulky storage spaces or specialized hosting features.
It can be great for business, and non-business sites as this plan offer basic building tools, custom domains, and satisfactory built-in functionality.
In 2019, the revenue generated from shared website hosting plans was 37.4% of the market share.
However, data security breaches are always a risk as your files are stored on a shared server. Also, a free or basic plan would often come with restricted web development features and offer an average speed.
Host servers like Wix, HostGator, DreamHost, and WordPress all provide the cheapest plan for website creation that you can settle for.
Virtual private servers- VPS
Even though this also provides a shared server for several people, it charges more money because it has better security features than the previous one. For example, your files and data are stored in specific storage spaces with protected resources.
Dedicated hosting
If you are looking for a server dedicated to your files and provides better performance, this one can be a good fit. As the entire physical server is yours, you get better functionality, and however, as you may have guessed already, the cost will be higher.
Managed hosting
In this type of website hosting plan, even though the server is dedicated to your website, it will be managed and maintained by a different provider. You will have to use the File Transfer Protocol or FTP to manage your content and follow other rules that come with the perks.
Cloud hosting
One of the newest and considerably safest hosting servers that do not break the back for you. Servers like Cloudways and Site Ground are making their place in the web hosting market with promising features and better speed while providing all types of web hosting at their best.
It is anticipated that gradually cloud hosting will become more commonly used than the WordPress (WP) Engine.
As discussed, five options, including the share and the non-shared hosting plan, are widely used- there are other home servers that you can use on your own.
If you are not content with your current hosting plan, you can always use a private server if you have a good research edge and ample technical knowledge.
Signs That Tell You Need to Explore Upgrade Website Hosting Options
You can choose from basic hosting plans to any expensive yet comprehensive plan. The key to hosting success is to learn the signs that navigate you to the upgrade process.
Here are some of the signs that tell you that it is time to get fancy with your website hosting and upgrade it.
1. Not-so-satisfying website performance
The two biggest determinants of your website's success are its performance and speed. Nobody wants to wait minutes before a site uploads and functions. On the other hand, people expect a website to load within seconds as Cloudways do.
Cloudways offers less than 0.5 seconds of loading time compared to many other websites hosting servers.
WPEngine and Kinsta hosting plans involve a specific number of visitors every month.. Let us say, for instance, they have a "100,000 visits plan." do you think it would guarantee a super-fast and high-performance website for each visitor?
Not certainly, as this specific number is more of an assumption, with a certainty that there can be more visitors. Then what? Will the "extra" visitors not be able to leverage the plan efficiently? Cloudways does not define such numbers and offers equity in every aspect for the visitors to create state-of-the-art websites.
As tested, the Cloudways plan is easy on the pocket while serving way more visitors than its competition, such as Kinsta and WordPress Engine.
Moreover, a slow website can lead to a bad experience and down your website on the "search engine ranking" chart. If you do not invest in the speed and performance of your website, you will have a hard time ranking on the first page of Google or any other search engine.
The best way to test and analyze your website's performance and speed with the current type of hosting you are using is just to open your website on your mobile phone and hit the refresh button.
If it refreshes quickly, all is well, and it needs no upgrade. But, if it takes a lot of time and infuriates you, it is the right time to undergo the upgrade process.
2.Your website is getting too much traffic
With the visitors to the website, the more is always merrier, but not when you are not prepared for the spike in organic traffic.
If you fail to anticipate such a big surge, especially when planning a great product or service launch on your website, the visitor will experience a "traffic jam" in the form of an "error message" on your web pages. And we all know that traffic issues can be devastating for you and your business.
If you plan to start small, your worries will be small, too, and you will be able to stick to basic plans with a simple upgrade. However, if you want to go big with your launch, personal blog promotion, or any other business shenanigans, you will have to plan big as well.
When your business is booming, and you are growing fast, you would need to slightly expand your budget. Yet a dedicated webmaster with a dedicated server plan allows you to leverage the bandwidth and unmetered disk space.
A popular choice for dedicated hosting plans as offered by WPEngine and Cloudways gives you complete control over the server resources with better MB storage and a user experience that leads to giant amounts of traffic.
Moreover, they offer DDoS protection, diverse options for hard drives, unlimited bandwidth, and excellent performance firewalls.
So, before you want your content to break the internet and go viral, it would be best to upgrade your hosting for all the heavy lifting that would be required to do.
3.Frequent downtime
If you go on a website, what kind of experience do you want? To open it on the first try, right?
As they say, the first impression can be the last; if the website does not open as soon as you click it, you will not visit it again. In addition, hosting servers like DreamHost and WordPress offer 99% uptime, while Cloudways offer 100% uptime that loads your website in less than a blink of an eye.
And if your current plan is not giving you the required uptime, upgrade it to acquire better support and resources.
The significance of a website's uptime cannot be understated. If a visitor is unable to access your website on their first attempt, they may never return, and this presents an unprofessional image. If you're not obtaining 99.9% uptime and fast load speeds from your web host, it's time to increase your hosting package to include more resources and assistance.
4.Security issues
Your website will be your business's biggest asset. It is a "show and tell" avenue for all the e-visitors who want to learn about your online venture. So, if your website is not secure and you experience a data breach, it will be quite troublesome.
As your website grows in size and number, the first step is to shift to non-shared hosting plans if the current one is shared. Next, you need to get better built-in security features.
Even though there is no hosting server that offers 100% web security, there are some like Cloudways that provide advanced security features like dedicated firewalls, click-free SSL installation to avoid viruses, a two-step authentication process, bot protection, and more.
If even your existing paid plans are not offering these features, it is high time you upgrade your website hosting to the one that does.
5.Restricted resources and lack of customization
With the growth of your site grows the user activity as well. You would need plenty of features like editing tools, customization, and disk space as well. Usually, any basic, free, or shared plan does not offer these features, and you will have to upgrade to another hosting surface to unwind more resources.
Moreover, graphics such as catchy videos and many images attract more people. And people would want to load them instantly- as you know, the internet ninjas have the patience of a hummingbird.
Getting straight to the point, you will need advanced design tools (also some attractive SEO tools) to optimize and customize your media content. The premium plans or any other powerful plan for website hosting will offer compression, lazy load, and excellent formatting to speed up your site and help with media content.
6. You need a sandbox or demo site for your clients
When you are new in business or have a knack for trying new ideas, you also need to leverage certain advanced tools. Cloudways hosting servers allow business websites to leverage various features like a sandbox environment or a demo site.
Such advanced features allow your website to showcase your ideas and talent to clients on an abundance of platforms.
7. You need to boost performance with better optimization and SEO
On your website, you will have blog posts, media content, product descriptions, and much more, and you will need to optimize the entire website to rank higher on search engines.
From settings dashboard on your site to diverse blogging platforms, SEO (Search Engine Optimization) is what makes it discoverable and accessible to the audience.
Therefore, even if you settle for an affordable option for web hosting with adequate design functionality, you will need access to SEO tools. But, as already mentioned multiple times, as your site grows, you will need to upgrade your hosting plan. This time with the one that offers advanced SEO functionality.
If you want to step into the competitive online market, try to get your hands on a good web hosting server from the start. So even if you want to get some upgrades later, you can save a lot of time and money on the website setup process and the migration process.
Conclusion
From tackling traffic density to handling the bandwidth breakdown and the need for additional drive space or advanced SEO features, you need a one-stop solution for all your website hosting problems.
If you are tired of changing from one hosting platform to another, try Cloudways or Site Ground and see the wonders it does to resolve your server issues.
We are not saying it is an ideal choice because words are not worth it without actions. However, we want you to try the basic plan first, and if it works for you, you can always take advantage of premium features.
Get started with the best, and let your avant-garde website rule the front pages of every search engine.
The essence of a great website creation lies in content strategy and a list of keywords used to make the website searchable and easily accessible.
Let us be clear, everyone wants their content to rank on the first page of every search engine, especially Google- the higher the ranking, the better.
Therefore, to do so, it is essential to curate a website that targets both, the search engines as well as the users. This is because one without the other would compromise the website's ranking and ROI.
So, to accentuate a failproof SEO (Search Engine Optimization) and get organic traffic, you need to work on its foundation- keyword research.
Worry not; if you are having trouble with the keyword research process, we are here to help rank your business site rank higher. After reading this guide, you'll never need to ask how to do keyword research for your website.
What is Keyword Research?
Terms like search volume, long-tail keywords, target keywords, SEO strategy, etc., might confuse you while working on the keyword ideas. However, all of these terms are intertwined with keyword research and allow you to create the type of content you want.
To create a website that is attractive and user-friendly with more organic traffic , take a step back and learn the basics of SEO keyword research.
The keyword research process allows you to create a list of the most popular keywords (or search terms) that the audience usually looks for on search engines such as Google.
However, the relevant keywords need to be included in the content strategically and according to the search volume- the frequency of any particular keyword.
In doing so, you enable your content and website to rank higher on SERP- search engine results page.
In simpler words, a well-crafted keyword research list allows you to understand the language and mindset of the potential customers when they are searching for particular things.
Once you have your traffic generating keyword list, you can easily analyze, compare and even improve the relevant keywords based on the statistics and monthly search volume.
Basic terms to understand during the keyword research
While you are on the "keyword hunt," you would often come across several terms that you need to understand for better results.
Long-tail keywords
These are search terms with considerably low competition levels and search. As the name suggests, they tend to be longer, usually a short phrase with 3 or more words. Long-tail keywords have proven to have more sales conversion rates as they do not have much competition and are easily searchable.
Seed keywords
These are what we call the short-tail keywords consisting of only one or two words. They tend to have a higher competition level and high monthly search volume. These keywords have no modifiers.
Search volume
This metric allows you to evaluate and analyze the number of people searching for a particular keyword or query. Search volume accolades your content with the right and popular keywords, turning the search engines in your website's favor.
Ideally, when performing keyword research you should always target keywords with low search competition levels and a high monthly search volume.
Why Does A Website Need Keywords?
In this digital era, it has become a need for every type and size of business to create an avid online presence. Your website is what you would call in the non-digital world the brick and mortar store. It displays your content, products, and services to the visitors. Understanding how to do keyword research for your website is something that needs to be considered.
The keywords are the linchpin that allows you to understand if your content understands and fulfills the visitor's needs.
Keyword research is critical in defining your website's workability and success.
On-page SEO might be sufficient for local organizations or businesses standing in less competitive industrial markets for its search engine visibility and ranking.
However, for a medium-sized or a large scale B2B or B2C organization, it is important to include other SEO strategies like backlinks, off-page SEO, industries, and keyword-optimized content on other social media platforms like Instagram, and Facebook, Twitter, Yelp, etc.
Consistent and keyword-quality rich content with relevant key terms (short or long-tail) alongside internal and backlinks can enhance the optimization.
Overlooking the competitive keywords and not investing in keyword strategies can cost your time, money, and business. If your website fails to rank on the first page of search engines, nobody is ever going to discover your content, and that would bring the ultimate doom to your business.
Your content should not be focused on what you want to tell the people but on what the people want to know and discover.
After you have grasped the basics of keyword research, it will allow you to:
learn the ways and overcome the difficulty of ranking a difficult yet competitive keyword
study the keyword search volume that portrays the relative size of traffic expected after you rank a proper keyword
analyze the type of content you should create to rank the keywords
understand the number of potential customers the keyword list is bound to get after ranking
You must understand the intent of keyword research and learn the different types of keywords. If you get stuck with the process, you can always seek help from SEO experts or other relevant keyword tools for searching.
Think About The Intent When Doing Keyword Research
When working with SEO and keyword research, you cannot overlook the factor of "search intent or user intent." Identifying user indent is the most important factor of keyword research and will help get you in front of the competitors which will help you understand how to do keyword research for your website.
Using intent when doing keyword research targets the main goal every user has when they search for anything particular or a query on any search engine.
To create a failproof content marketing strategy and run a successful business online, the importance of search intent can never be stressed enough. Search intent lends you the perfect keywords that become the driving force for your content and marketing strategy.
Creating your website based on the search intent allows your content to be specific and precise; moreover, it navigates more people to your website throughout the various stages of the sales funnel, turning them into potential customers.
To help you understand better, here are the four basic types of search or user keyword intent- so that you do not get lost in the search for potential keywords.
Informational intent- when the users are looking for information or answers to their queries like "how to bake a moist cake" or " what is the best android phone."
Preferential or commercial intent this is especially when the users are looking for the best products or services to use, such as "the best website development services" or "Wix VS WordPress."
Transactional intent- this refers to when the customer intends to buy a service, product, or subscription such as "shop Chanel perfumes" or "best website hosting packages."
Navigational intent- the users tend to search for a website or brand but may or may not have the specific name or URL such as "Spotify login."
All you have to do is align the goal of keyword research with the search intent and improve your website's ranking.
Keyword Research Tips
Now that you know that keyword research is as important to your online existence as oxygen is to your physical existence. You must learn the tips to hunt down the exact keywords for your SEO.
Here are a few keyword research ideas that will help you create an unbeatable website:
Create a keyword list of topics based on your business goals
Every business has different goals and targets a different audience. Therefore, to kickstart your keyword hunt, you must create a list of business-oriented topics and decide how to rank them accordingly.
You can use "seed terms or seed keywords" to narrow down your research for specific niches. A seed term is the main keyword you can type into the SEO tools or search engines to generate a list of relevant terms or keywords.
While creating the topics, it is important to embrace the customer or buyer personas and then equate them to your sales conversions. Write down the content topics and then list down their keywords with the monthly search volume.
For example, if you are a footwear company. you may have a bucket list for the topics like:
Boots (4090K)
Sneakers (673K)
Sandals (670K)
Heels (45K)
Flip flops (36K)
The search volume enables you to gauge the relevancy and importance of these topics as per your target audience. Furthermore, if the list of organic keywords for any topic increases, it will help you create relevant sub-topics- as they say, the more, the merrier.
Create a specific keywords list for each topic
Happy with your content topics? It is time to move on to the next important step- adding relevant keywords to each topic.
They can range from a single word to an entire keyword phrase to enable the content to rank higher on SERPs. It will also allow you to get the "additional keyword ideas" if your potential customer searches for specific terms.
For instance, if we go back to the topic we listed above, you would need to brainstorm keywords related to the "footwear" topic. Such as:
men's leather shoes
comfortable boots
best running shoes
So and so on
Initially, it would be best to dump all the keyword phrases you and your content or social media marketing team can come up with under each topic. And later, you can narrow them down based on the level of competition and keyword difficulty.
As the internet advances and more people are getting comfortable with the digital paradigm, Google is encrypting more and more keywords every day. This way, it becomes easier to know what keywords the audience is typing in the search engines to find you.
However, to utilize this smart feature, you will have to get access to certain Traffic Analytics tools like HubSpot Sources or Google Analytics. All you need to do is, look for your content topic, drill down the monthly traffic on your website and identify the keywords that visitors are using to look up for your website.
Understand, Research, And Analyze The Keyword Search Intent
You will be amazed to learn how a single keyword can have different meanings as perceived by different people. You have to amalgamate your keyword research with the user intent to improvise your Google ranking and gain more organic traffic.
Before doing any of this, analyze and interpret every keyword in your list. For instance, if your keyword phrase is "the best way to start a blog," here, "blog" can be interpreted in several ways. You can mean blog website or simply a blog post, and the user intent will decide that.
If the searcher wants to launch a website or start blogging, they will use the search engines accordingly. SO, if you are, let us say, targeting the former, you would use the user intent to create content based on keywords for starting or launching a website.
The easiest way to verify that you are on the right track with intent and keyword research is by typing the keywords in the search engines and analyzing the results that pop up.
Use Keyword Research To Drive A Great Content Management Strategy
Keyword research allows you to perceive the prospects of the audience relative to your business, services, and products. If you know what your target audience wants, there will be no trouble creating useful and lucrative content that caters to their needs and demands.
Remember, the key to success does not solely lie in the perfect keywords you find for your content but also in the content management strategy - how you execute those keywords in your SEO-optimized content.
Leverage PPC Pay-Per-Click Campaigns
Pay-per-click or PPC campaigns like Google Ads allow people to find your website via organic search.
You should enlist specific keywords relevant to your business goals and align them with your services for better sales conversion and user engagement.
PPC campaigns and online advertising enable you to utilize keyword research for several purposes.
Use Keyword Research Tools
You can easily get stuck with all the keyword research chaos. Worry not; there are several handy keyword and SEO tools that can assist you with excellent keywords ideas and find the perfect match.
To stand above the competition level, here are some easy-to-use tools:
These tips and tools can help you with the SEO ranking of your website and enable you to put your business upfront on various online platforms.
Avoid The Traps Of Keyword Research
When creating a website and struggling with keyword research and SEO, you want to avoid some easy-to-miss pitfalls.
Here are some keyword mistakes you need to avoid at all costs:
No Or Inadequate Keyword Research
People often miss out on keyword research as they believe it holds no importance for their website- the biggest mistake ever. Even though keyword research can be daunting and take up a lot of time, it is the only way to improve SEO and rank your website higher on search engines like Google.
You cannot just "instinctively" anticipate what your users want; the only way to understand their needs and mindset is to use the words alongside the search intent.
Also, it is essential that with time you change update or change your keywords strategy and list if your audience or business needs changes.
Underestimating The Competition Level
Targeting realistic and relevant keywords is crucial while following the keyword trends. Some niches or content types are hard to rank and very competitive, so if you are just a beginner, you need to focus more on the "long-tail" keywords and not the competitive keywords.
How to do keyword research for your website should help you nail down the competition. This will ensure you don't go after keywords that are too difficult to rank for.
Only Focusing On Low Difficulty Or Exact Keywords.
You can easily make the mistake of using low-difficulty keywords or exact keywords only to get higher traffic.
When you write a great article, you cannot rank it based on only one exact keyword or go for low-difficulty phrases to ease your work. You need to create keyword-optimized content to become discoverable on search engines and gain more traffic.
Furthermore, you can seek assistance from SEO tools like the Rank Math Premium plugin to find focus and key terms.
The Same Keyword Is Used On Multiple Pages
If you opt for keyword cannibalization (optimizing the same keyword for various pages), you will be creating obstacles to your website's success.
The same keyword on more than on-page will confuse the search engines, and they will not know which page to show to your users- leading to complete disaster. Therefore, if you want to create multiple pages, you must create a separate keyword list.
No Evaluation Or Updates
You have done your keyword part, and your website is up and running. However, to see if your ranked keywords are serving their purpose, it is important to evaluate your monthly stats to analyze if people are able to find your content easily.
The easiest way to do this is to Google your main keywords often or use a private browser (that would be better) to see where your article shows up in the results.
This will allow you to decide whether you want to stick with the long-tail keywords or are ready to go with the competitive "head" keywords.
Key Takeaway
It is never easy to run a business, especially if you do it online.
The best way to get more visitors to your website and increase sales conversions is to do your keyword research for SEO right. It is a time-consuming and tiring process, but you can enjoy the benefits in the long run when done right.
More keywords ranked will translate to more willing customers and lead to your success. I hope you've enjoyed how to do keyword research for your website.
You may publish products, services, business updates, and upcoming events in Google Search and Maps directly using Google Posts, which are generated through Google Business Profile and it is a great marketing kit for new or established business owners. In the local SERPs, each Google Post shows as a little card within the graph database (Search Engine Result Pages). This feature is like a business dashboard that helps business owners to monitor business activities.
These product posts or cards are ideal for providing updated marketing messages to potential customers at the correct time, and they may be displayed in any business place. They're kept up to date using a simple user interface on Google's business profile.
One can even update posts, add event details or review the previous post whenever they want on their Google business profile. Post content and post element are easily manageable via mobile devices.
Various Posts for Multiple Individuals
Posts could be used to convey a wide range of data, including:
In-store sessions or brunch bands are examples of events.
Discounts and vouchers are examples of specials/offers.
New good is an example of a product update.
"Special guests this week!" or "Open late this Saturday!" are examples of announcements.
Why Your Business Needs to Post On Google Business Profile
Customers searching for your business can trace you easily through Google posts; these types of posts improvise customers' search experience. Well, it's not a universal fact that all types of businesses will benefit from Google posts, but you have to try different methods to select the best method for your organization. So, why should you give them a chance?
Google Posts won't cost you anything, to advertise your business posts on organic results pages. Think of it it as a Facebook post with a huge audience. So, just give it a try. Every post type used in GMB is valuable for your business progress.
Using Posts enables a customer to learn about services, products, upcoming events, and all this with a single click.
Before making a purchase, 81 percent of customers perform online research. Sixty percent start with a search engine. Then, posts deliver information to the right audience at the right time.
Google Business Profile includes Posts, which can be controlled through the app or the business website while traveling.
Where Do Posts Appear?
Users will notice your shared post in Google Maps and Google SERPs when they explore your business on Google. They'll appear to the right of the search results in the knowledge graph on desktop and mobile. In the first half of this blog post, you can observe the photographs.
How to Make a GMB Post?
It's simple to post from your desktop or while on the road. Google Business Profile is accessible for iOS devices and Android devices.
Steps to Create a GMB Profile via Mobile Device
Google Business Profile is available for Android and iOS. Download the app and click sign up.
In the lower right area of your screen, a created symbol may appear; click this post symbol as it appears.
The option to add text, events, photographs, and a button to your event post can be found on the screen with the title "Create a post." Fill in the required information by tapping each field.
You'll see a preview of your post after you've filled out your information. Click Publish, which may appear in the top right area of the screen if everything seems good.
Steps to Create a GMB Profile via Desktop Devices
Log in to your Google Business Profile account. Then, select the one you want to manage by clicking Manage location if you possess multiple locations.
Create a post by clicking the Create button. Alternatively, go to the menu and select Posts.
The screen titled "Create post" will emerge. The option to include text, events, photographs and even you can find a button to your event post here. Click each field one by one and fill in the information required.
To sneak a view of your active post when you've finished writing it, click Preview. Then, tap Publish in the top right area of the screen if everything seems good.
Within a few minutes, your uploaded post will display in the SERPs.
In the Posts tab, all posts will be archived.
Tips to Create a Compelling Google Business Profile Posts
Here are some terrific recommendations for business owners for setting up Google Posts that catch people's attention and urge them to click; however, there are some things you should know first.
After 7 days Google will delete your post to make sure that new content is shared.
Event posts are visible until the event winds up. You can share all the events, and details in a single event post or create different posts with similar event titles.
The Knowledge Panel only displays the first 80 characters.
All the current posts will appear first, followed by a carousel of earlier entries.
The first 2 posts will emerge in the SERPs, although Google will browse up to ten posts in a carousel.
The guidelines for writing a fantastic action post are similar to those for writing any other sort of advertisement, except for the size and character constraints. Here is a list of the essentials below.
Examine and borrow ideas from blog articles like these and any type of post you come across for businesses that interest you.
Make Use of Excellent Photography and Videos
Although it may appear to be a simple task, it is recommended that you use a clear, well-lit photo to make your post stand out and to secure an excellent customer experience and brilliant customer reviews.
JPG or PNG are the two most common image formats.
720px wide by 540px height is the minimum image size that will be acceptable.
Videos can truly make a business stand out in local listings and search results. You may now obtain a competitive advantage by submitting high-quality movies that help you create awareness, increase sales, and showcase a new side of your company. You can attract potential customers through videos, and even a 30-second video can increase your sales remarkably.
Graphical representation, even in the form of a single image, assures you of a great marketing message.
Create Headlines that are Actionable
Create a headline that motivates people to take action. "Get Your Free Coffee" is an example of a thorough headline and swiftly informs the user of what you want them to accomplish.
This is an excellent opportunity to apply some of the abilities you gained while writing commercials and a finite number of characters.
Keep your Descriptions Succinct and To the Point
Keep your post concise and only provide the information that is required. Google sets the limit of 1500 characters, yet only the first 80 appear in SERPs. Make the most of it.
150-300 characters is a good rule of thumb. However, it has been found that the knowledge graph displays roughly 80 characters (heading included the headline).
"Get Free Download," "Learn More," or "Order now" are all good examples of clear calls to action. Here is a terrific call-to-action guide that includes character counts. With such a high turnover rate on Posts, you'll have plenty of opportunities to try new things.
Things to Avoid In Google Posts
"BOGO: 50% off kids backpacks" isn't great. Returning to the preceding sections, ensure that your posts are thorough. The ones who don't shop often may be unfamiliar with "BOGO."
According to Google, all caps or exclamation marks are not recommended in headlines or descriptions. However, posts like "SALE SALE Fantastic Monday!!!" are a good illustration of what not to do.
Maintain a straightforward approach. Don't try to jam all of your deals into a single post. At any given time, you can publish up to ten posts. Create a new post to promote the second one if you have more than one offer.
If there are several exclusions, no one will click on your post. So include your offer in the post, and mention any exclusions on the page.
Local SEO (Search Engine Optimization) and Google Business Profile Posts
Sharing useful information and documentation about your local business will assist in improving the relevance and activity of your Google local listing. As a result of this relevance element, users will be more engaged than before. Previously, a Google Maps visitor would see general metadata about your local business, such as hours of operation, ratings, address, phone number, and so on...
You can now extend user involvement with information, photographs, news, and videos with Google Business Profile posts.
The information about your product, service and local business will automatically be included in sharing postings. The more information you offer about your company and its location, the more "location rich" metadata you'll be able to add to your Google Business Profile listing.
And when it comes to local SEO... i.e., SEO rankings or search ranking in Google Maps / Google local search results, this entails increasing the location authority of your local listing.
The more geographic authority you possess, the more local search results for various contextually relevant keyword phrases and queries.
How to Assess Customer Satisfaction/Success
Google provides impressions and clicks data for posts; however, posts do not interact with Google Analytics.
Use Google's URL builder to create a distinct URL with your CTA button to track the effectiveness of your Posts. This allows Google Analytics to learn more about the user, whether they converted after clicking the link in your post or interacting with the website.
Since consumers are accessing a variety of posts through an organic search for your business, it is recommended to set the Medium to organic. This is entirely up to you for the Source, but you'd like to stand out from a standard Google search via creative social media posts. The campaign may vary between different postings depending on the fresh content, but in the end, it's entirely up to you.
Conclusion
Using Google Posts, you'll be able to bring relevant, timely content to your potential customer when they need it. In addition, by implementing a custom URL, Google Analytics will be able to pull user information about who clicks on Posts, which may be utilized to make advertising and marketing decisions.
This is something that everybody with brick-and-mortar business owners should use. You must have a physical business location and a Google Business Profile page to use Google Posts. This is a brand-new feature, and business owners can use it to deliver more messages to the target audience searching the SERPs.
This can also be a useful tool for firms wishing to take their local SEO efforts to the next level and collect reviews and feedback valuable to progress in the market.
Customers browsing Google will now notice that your coffee shop is less than a mile away and that you have a buy-one-get-one-free scone bargain running all week. So allow them to savor scones and now you know how to create a post for my Google Business Profile.